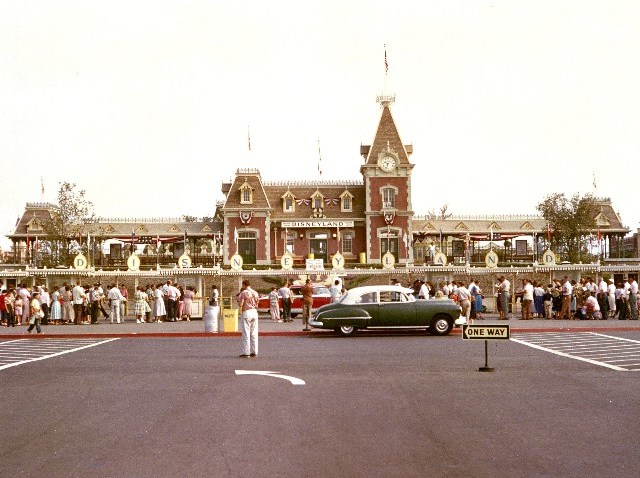 Early stories of Disneyland? Like many SoCalers, we love tales of the famous park's opening day, when the newly laid asphalt was still sticky-hot and Ronald Reagan himself showed up to lend support.
Oh, and a fedora-wearing Frank Sinatra, too. And Sammy Davis, Jr. Both in suits. In summer. Rat-Pack-meets-theme-park chic. Fills one with joy, really.
And that ladies turned out in high heels and flouncy skirts. And that Walt Disney's big dream became something vastly bigger than we imagine him having imagined. Opening day for Disneyland was July 17, 1955, and the park is celebrating its 55th on Saturday, July 17.
55/55. Easy to remember.
There will be a Town Square dedication. There will be singing of "Happy Birthday." There will be special Mickey ears that are being produced and sold over just a single day.
Get the times/details on the July 17 wheres/whens. And marvel at the vintage photo above a little longer. Yep, there was a parking lot just in front of the main gates once upon. If you remember this, SoCal friends, we'd high five you if we could.
Copyright FREEL - NBC Local Media