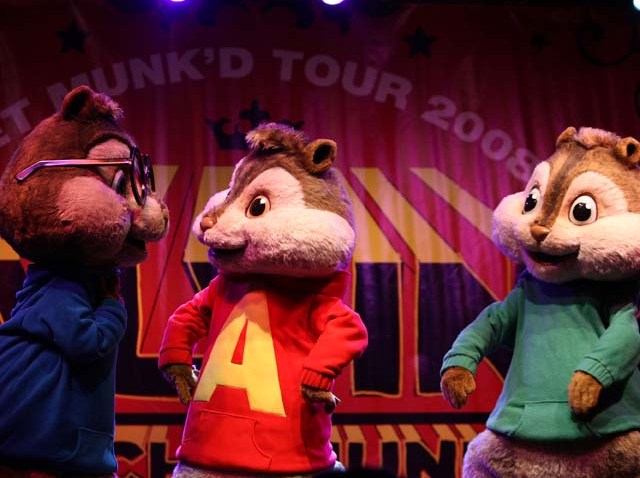 When something rather momentous happens in Hollywood, one can count on it happening again, almost immediately.
A new movie does well? Yeah. There'll be some movies looking very much like it over the next 24 months. An actress wears a praised gown to a big awards show? Multiple dress makers head straight for Knockoffville.
So when Donald Duck put his webby feet into the wet cement at Grauman's Chinese Theatre 25 years ago, it would have been natural to expect a whole slew of cartoon characters making for the Boulevard. Didn't happen. Oh, sure, there've been some non-human entries to the famous forecourt -- C-3PO and R2D2 among them -- but the blue-coated, sailor-chapeau'd bird is the only animated celebrity in the tradition's 85-year history.
That will change on Tuesday, Nov. 1 at 9:30 a.m. when Alvin becomes the first chipmunk and second cartoon character to receive the handprint ceremony. Or perhaps "pawprint ceremony" is more apt. (We just spent several rewarding minutes Googling "chipmunk feet" to find out if there was a more scientific name than "paws" or "claws"; we recommend this activity to you, too, if you're looking for a particular topic to get lost in.)
That adorable Jason Lee will be in the house, or in the forecourt, rather, to do some Dave-style hollering; we'd also personally like to see Donald Duck show up, to do some passing of the torch, but we know he is very busy and a tad irascible. And we wouldn't want him any other way.
"Alvin and the Chipmunks: Chipwrecked" will open on Dec. 16 (yep, it'll play at the Chinese, meaning you can visit the pawprints ahead of your screening).
Copyright FREEL - NBC Local Media