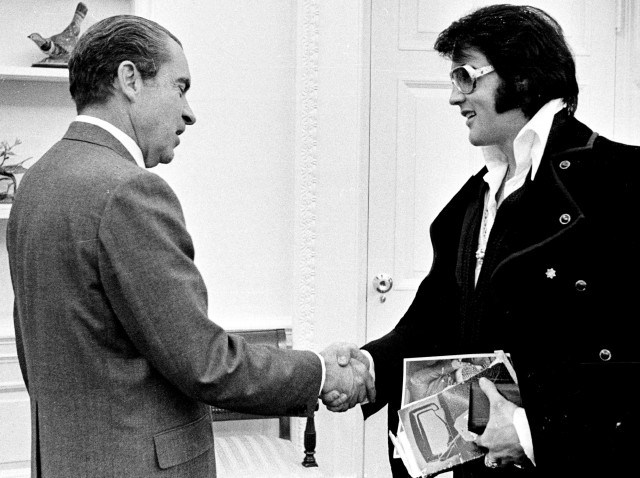 Elvis. The one name. The string of sunny movie hits. The string of number one songs. The big, bejeweled collars. The hound-dog befriending. The hip shaking. The random sightings, years after his death.
We all have a soft spot, even if, a half century after the singer's heyday, we can't sing an Elvis song all the way through. Though we should say that many, many people can, even fans born after the legend's death on August 16th, 1977.
Side note: "A Little Less Conversation" remains a soundtrack staple for a reason. Best shake-it-shake-it song *ever*.
And while a large hunka hunk of those fans are making their way to Graceland, the King's Jungle-Room'd, Cadillac-'d-out Tennessean manse this week, which is Elvis Week, there are those who can't make the journey. Still, there's plenty of Elvisiana to enjoy around Los Angeles, now and in the near future...
-- The GRAMMY Museum announced today that it will have a new exhibit -- "Elvis at 21" -- starting on Mr. Presley's birthday in January. That was the year the rocket known as the King's career took off and headed straight for the stratosphere; it should be plenty juicy, with pictures galore.
-- While "The President and The King," a Richard Nixon Library exhibit detailing that iconic photo of the president meeting Elvis Presley in the Oval Office circa 1970, closed awhile back, the library still sells Elvis-Nixon memorabilia in the gift shop. The library is located in Yorba Linda.
-- Elvis Presley's Walk of Fame star is on Hollywood Boulevard between Highland and McCadden. Perhaps a visit there -- with rose to leave behind, of course -- can be followed by dinner at Palms Thai, home of Thai Elvis?
Copyright FREEL - NBC Local Media