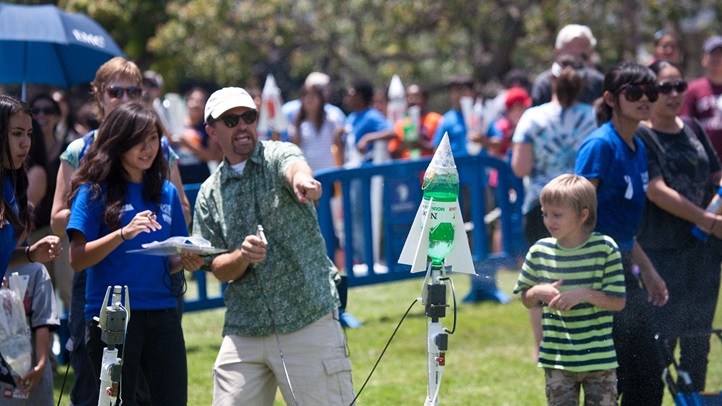 SPRINGTIME HEIGHTS: Autumn may boast punkin chunkins (or pumpkin throws, if you prefer) around Orange County, but when the weather gets flowery and warmer the things that go up in the air are definitely by human design, and not Mother Nature. We speak of the Discovery Science Center and Boeing Rocket Launch, a tradition that's set to fete its 21st year with a vroom-y, altitude-happy outing on Saturday, May 10. The Santa Ana-based center will take a road trip to the Huntington Beach headquarters of Boeing, where Future Scientists and Engineers of America will "design and build their own bottle rockets for participation in the annual competition." NASA astronaut Andrew Feustel will also be in the house, er, the grounds, chatting with space fans and admiring the feats of sheer launch-a-tude. (Yep, he's the same explorer who rode on Endeavour's last mission.)
TWO-LITER PLASTIC SODA BOTTLES... are the vehicle base of choice, if you're wondering just what "bottle rockets" encompass (bottles are indeed involved). An "Ask an Engineer" table will be set up to help the builders, builders that will use "pressurized air and water for propulsion" to send their creations to the clouds. And back again, of course, with the help of a parachute.
CALL IT... an excellent way to introduce the kids to science's utter coolness and to inspire conversations about invention and innovation (can't have one without the other, really; they must sound alike for a reason). The event is free, open to all, and on from 9 a.m. to 2 p.m. Want to build your own rocket? Sure, sure, but you have to register first.
Copyright FREEL - NBC Local Media