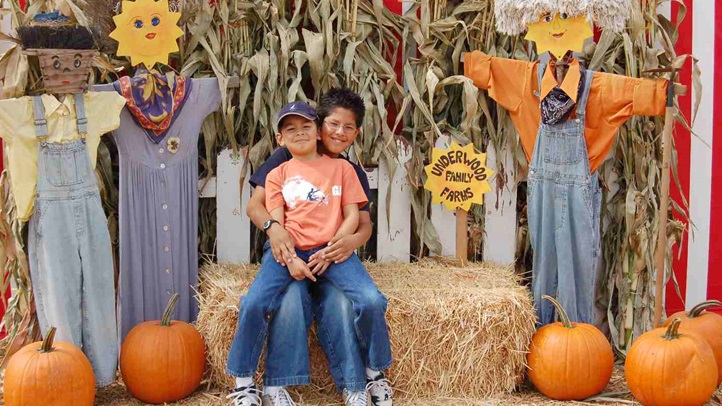 IT WAS LIKELY A BUSY TWELVE MONTHS... for you, since last October, what with the work and the family to-dos and the errands and the holidays and the everything that fills up our too-short days, but we'll wager, with some confidence, that you didn't stick a tomato in a slingshot during the past year. If you happen to own a tomato slingshot, and a corn cannon, and a pumpkin bowling set, in your own backyard, well, please accept our deepest apology -- we were wrong to think you weren't a pro at the autumnal recreational arts. But if you're currently scratching your noggin thinking "hey, yeah, I haven't sent a juicy, seed-filled fruit high into the air via slingshot," there is a way to remedy that starting on Saturday, Oct. 3.
If you know one of the staples of the autumn family fun-time scene around Southern California, you know that we're about to type the word "Moorpark" and that the words "Underwood Family Farms" will soon follow. The local veges-fruit-and-more farm and stand puts on a rollicker of a month-long fall festival each October, complete with games of the sweetest, tomato-slingshot-iest sort. Add to those games a whole bevy of snack-ready booths, serving up the sort of fair-fun food you want to nosh on after a tractor-drawn ride on a wagon and you have a sunny-autumn day out. Wait, did we just say...
A TRACTOR-DRAWN RIDE ON A WAGON? Why yes we did. Beyond picking pumpkins out in the vast pumpkin patch, and game-playing and snack-eating, the ride through the corn and vegetables of Underwood Family Farms is a perennial favorite. As is the hay maze and all of the sweet animals to see, including the goats that walk on planks high in the air. As for the themed weekends? Friends of the Farm Weekend kicks things off, with Farm Country Weekend, Antique Tractor Weekend, Western Weekend, and a day devoted to pumpkins to come. The All About Pumpkins Day is on Oct. 31 and Halloween is indeed the final day of the fall fest. It's open weekdays during that time period, do note, and do note you can get tickets online if you want to skip buying them there. Of course you're leaving with a pumpkin, right? To carve at home? We're not saying you can't re-create pumpkin bowling in your own yard, but knowing that you can do just that each October in Moorpark, and the tomato slingshots and the corn cannons and the goat petting and the tractor-wagon rides, well... It's something to anticipate come autumn, at one of the true SoCal stalwarts of the rustic fall festival scene.
Copyright FREEL - NBC Local Media