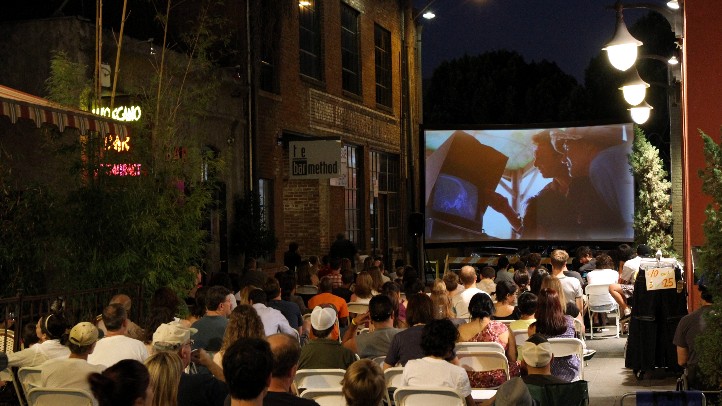 The One Colorado Courtyard in Old Pasadena? It looks a bit like it was built on a movie studio backlot, right? With its vintage buildings and cozy plaza feel?
It wasn't based on a backlot, of course, but that doesn't mean a few big films haven't used the alleyways of Old Pas for filming (yep, "The Sting," we're looking at you). And One Colorado makes a fine setting for a Crown City summertime tradition that just happens to involve, you guessed it, the movies.
What's billed as "California's largest outdoor film festival" returns for a four-weekend run on Thursday, July 5. It's The Old Pasadena Film Festival, natch, and, wait for it, it is free. Is there a more July-ish word than "free"? Maybe lemonade or ocean, but those are about it.
And when we say "weekend" we actually mean Thursday through Saturday; but, let's be honest, weekends tend to start around Thursday night in the summertime. The 2012 opener is the 1989 "Batman" -- hmm, are people talking about Batman or something this month? -- and the July 28 closer is "A Streetcar Named Desire." Stella!
Let us also note that all the Fridays are being called "date nights" during the fest, so if you want your romcoms, build your outing around the final weekday.
Also? Distant Lands, the travel bookstore, will be screening Friday night films with an adventuring or faraway feel, if that's your vibe.
Yeah, the fact is, you'll probably need to pay to park around Old Pasadena. But here's the upside: restaurants. Colorado Boulevard and the surrounding byways have a few of them, we hear. Arrive early and nosh before making for one of the most colorful cinematic courtyards in all the land and that sweet free flickage.
Follow NBCLA for the latest LA news, events and entertainment: iPhone/iPad App | Facebook; | Twitter; | Google+; | Instagram; | RSS; | Text Alerts | Email Alerts
Copyright FREEL - NBC Local Media