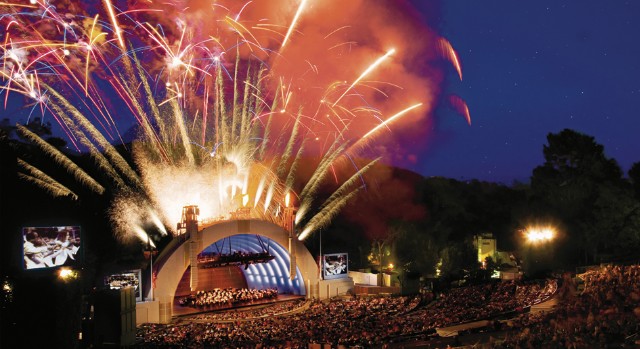 The Hollywood Bowl is one of the most famous venues in the world. Meaning? Well, meaning a lot of things, but when it comes to selling tickets the Bowl staffers don't just set up a card table on the edge of Highland Avenue and see who shows up to buy.
Nope. Like other world-class entertainment halls, there's a multi-month roll-out of ticket availability plan that spotlights subscribers and people who buy in bulk and the general, one-concert enthusiasts.
But we're particularly sweet on the "buy in bulk" deal. It's called the 5 or More at the Bowl, and it arrives just about two or so months before single ticket sales commence. The 2012 5 or More deal will open for sales on Tuesday, March 13.
Here's are favorite part of this thing: Buy five shows and get the sixth show for free.
Now, there are caveats and asterisks; you run an enterprise as well-known as the Hollywood Bowl, you've got to embrace the asterisk, for sure. The sixth concert must fall on certain nights and you'll be on the benches (honest, we love those benches; it is a convivial crowd). No biggie, right, about the benches? No biggie.
Now, what will your five purchased tickets be? We're looking at Glen Campbell's Goodbye Tour, Ben Harper and the KCRW World Festival, and Brian Setzer. It's the Bowl, so it is pretty much headliners from wall to wall (or hedge to tree, in the Bowl's case).
Summer, we see you.
Follow NBCLA for the latest LA news, events and entertainment: Twitter: @NBCLA // Facebook: NBCLA
Copyright FREEL - NBC Local Media