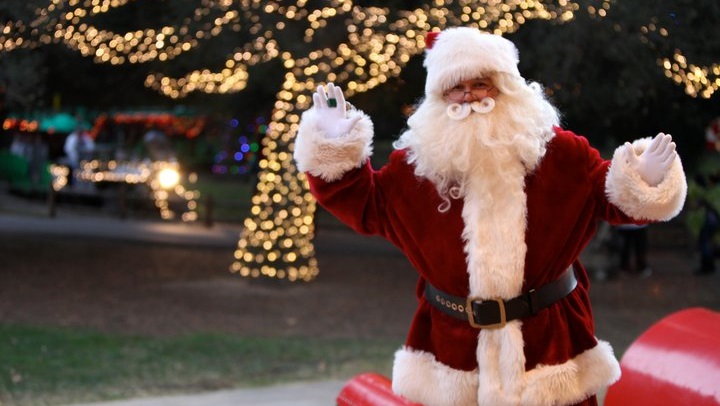 RAILS, STEAM, AND SANTA: Trains and the end-of-the-year, pop culture-wise, are one of the oldest pairings around. From "The Polar Express" to the toy train circling the bottom of the Christmas tree, choo-choos and the festive season seem to belong to one another. True, trains serve an everyday, quite-serious transportation purpose, and they run all year long. But it is only around Thanksgiving that a certain beard-sporting, red-and-white-suited man starts to join in the fun. (Honest? If you see Santa on your train in July, you maybe should ask questions, or, better yet, just enjoy the novelty.)
WHERE TO FIND SANTA: Several of the Golden State's most historic and kid-sweet rails invite Kris Kringle along on certain rides come late November and December. It makes sense that he's not on *every* train run during that period; after all, we hope he's spending a bit of time up in the North Pole, building rocking horses and whatnot.
IRVINE PARK RAILROAD: Ever wonder where the smaller scale trains of your youth are? There's a great one in Orange, at Irvine Park, and it knows how to do up the holidays. (You've got to visit it at Halloween and its wee "scare house" -- dang cute stuff.) Santa shows the day after Thanksgiving, and other yuletide-y extras await. Can we say it again? It's all dang cute here. Trust.
FILLMORE & WESTERN RAILWAY: There are a few fir-festive outings on the Fillmore-based line, but a lot of families with younger tots go for the North Pole Express, which includes "elves" and "cookies & chocolate milk." And, please: Kids are invited to wear their pjs. If only adult events had that asterisk more often.
HEADING NORTH: Roaring Camp Railroads, the California State Railroad Museum, and the Skunk Train all do Christmassy runs if you're making for NorCal. Santa Claus may be a busy man come December, but he knows that a good train jaunt is too fun to pass up.
Copyright FREEL - NBC Local Media