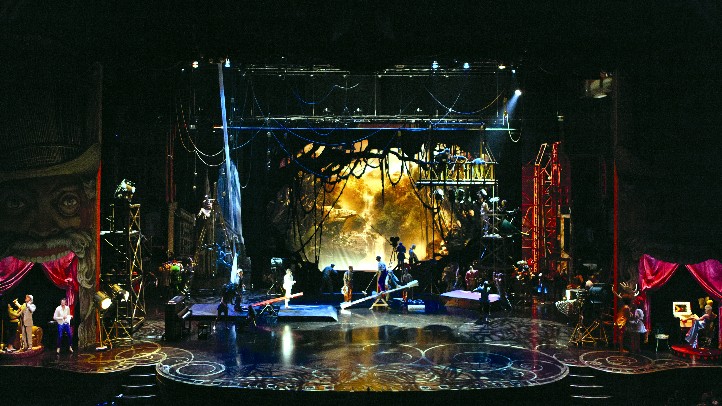 A lot of glitter trails Cirque du Soleil's arrival in any given town, and a lot of excited ballyhoo proceeds it. And "IRIS," the cinema-focused show currently housed at the Kodak Theatre, had plenty of talk even prior to its debut. Perhaps, even, more than most Cirque productions.
Why, in particular? Because the Kodak Theatre is famously home to a famous little show starring a golden metal man named Oscar. Meaning that two major productions, one ongoing and one for one-night-only, would essentially have to take turns. And taking turns between a Cirque show and the Academy Awards? Not quite as easy as letting someone else on the swingset for a few minutes.
With that in mind, "IRIS" is set to shutter, temporarily, following its Sunday, Jan. 22 show. The Oscars are scheduled for Sunday, Feb. 26, and then a Cirque rep says the circus'll be back in town, and at the Kodak "in March" with a specific date to be determined. (Update: The date is tentatively set as March 27.)
We've been vocal about having some Cirque action *during* the Oscars. Maybe a harlequin could present Best Actor from a trapeze? Ratings gold, we think.
It makes us wonder what other things could share a single venue around town. Oh, plenty of events do, but they usually follow each other, one after the other, rather than alternate. Here comes the first big you-move-out-we'll-move-in-then-we'll-move-out-and-you-come-back event. Where's our popcorn?
And, yep, the Oscars do take a few weeks to set up, even though they're only for a night. They have to put all those celebrity placards in all those front row seats, right? That's always our favorite behind-the-scenes photo.
Here's a peek back at "IRIS" setting up at the Kodak.
Copyright FREEL - NBC Local Media