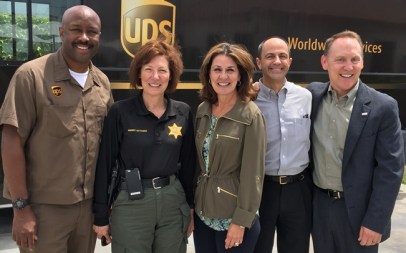 HomeAid Orange County, in partnership with the Children and Families Commission of Orange County, kicked off the 9th Annual Essentials donation drive at a Community Partner Luncheon held at Casa Teresa Emergency Maternity Shelter in Orange on April 26, 2016. The luncheon was hosted by Master of Ceremonies Vikki Vargas, NBC4 Southern California's Orange County Bureau Chief, and kicked off the week-long HomeAid Essentials donation drive to collect diapers and other essential items for homeless families.
The luncheon attendees heard directly from a program resident at Casa Teresa about how the donated items will impact her life directly.
"I had so many opportunities I ended up throwing away for drugs and alcohol and my life quickly went downhill, I slept in parks and stole my food," said Caitlin. "I came to Casa Teresa right from the streets with just a trash bag of clothes and I never would have imagined the love and hope I would find. Through this campaign, you have provided me the items necessary to care for my unborn son, help that without would have made my challenging situation even worse, if not impossible."
Donation drop off locations are located throughout Orange County, for a complete list and additional information about HomeAid OC, visit www.homeaidessentials.org.