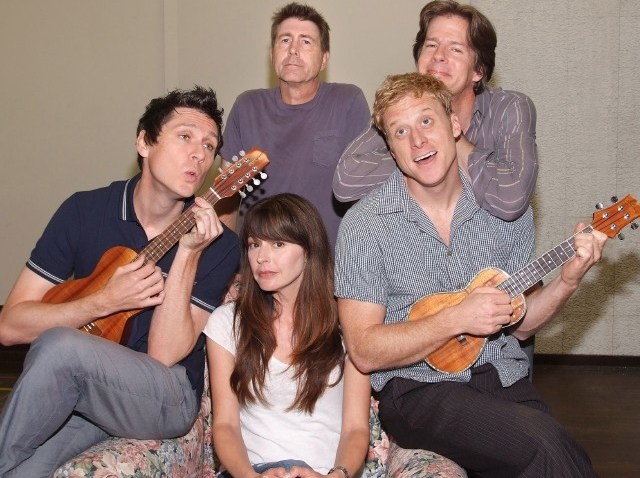 Nobody expects the Spanish Inquisition. And nobody expects the merrymakers behind Monty Python to do anything run-of-the-mill, comedy-wise.
Run-of-the-mill, comedy-wise (def.): Reuniting every few years to perform the sketches that made your troupe famous.
Not run-of-the-mill, comedy-wise (def.): Hiring a bunch of actors who aren't you and never were you to play you in the sketches that made your troupe famous.
Non-Python actors and Python sketches are smooshing together in a colorful and outrageous way via "An Evening Without Monty Python," which opens at the Ricardo Montalban on September 23rd and runs through October 4th. It then bows in New York, where it will be equally as Python-less.
100% Python-free, in fact. Though it will assuredly contain traces of Monty Python.
That's because Eric Idle, 1/6 of the actual Monty Python, is behind the madness in a semi-directorial role. But the cast, which includes Jane Leeves, Jeff B. Davis, Alan Tudyk, Jim Piddock, and Rick Holmes, had to have been in diapers when "Monty Python's Flying Circus" first debuted on the BBC four decades ago. Or not even born yet.
What Pythonia will be unleashed by these not-in-Pythons? "Silly Walks," of course. "The Parrot Sketch" ("beautiful plummage"). "Nudge Nudge" and "Lion Tamer." Are all the quotes flooding your Python'd-out brain?
In a world that goes squidgy about stating an opinion, we'll put one forth: Monty Python is the greatest comedy troupe ever. And seeing other comedians perform the material may add fresh dimension to forty-year-old sketches. Pythonians, you know everything by heart. Best go and judge for yourselves.
Dress like a judge, in fact, a la Terry Jones in the "call the next defendant" bit, complete with foofy white wig. We plan on going as a blancmange.
Copyright FREEL - NBC Local Media