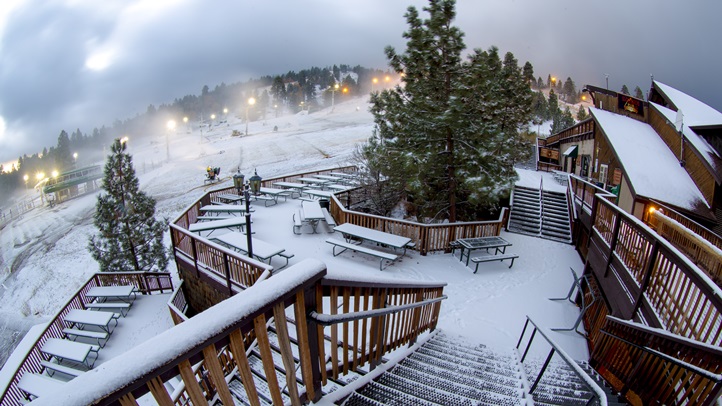 WHEN WINTER KICKS IN, and we mean really revs up, there's no special fanfare or engraved invitation or e-mail thread or balloon drop to announce it. The arrival of cold weather, especially, it seems, around our state's ski slopes, just plops upon us, like a plump snowflake atop our head, and we're suddenly cognizant that fall is melting -- er, freezing -- into wintertime. That was a bit of the feeling in early November when a flurry of Sierra resorts opened early, due to not one but two major storms that dumped several impressive inches of snow on the slopes. Now it is Southern California's turn, and we're feeling that ol' plump snowflake drop, out of seemingly nowhere, right on top of our noggin. Could it really actually be time to ski and snowboard and tube just a couple of hours from Los Angeles and San Diego and the desert cities? It could be, and it shall be, on...
FRIDAY, NOV. 13: That's the 2015 opening day for both Bear Mountain and Snow Summit. For sure, there's been a little human-backed help in the snow-making department, but "(g)ood early season natural snow" has helped things right along. Also? The temperatures are keeping fairly frosty, so the schussing should be quality. Bear Mountain will fling open its doors "top-to-bottom" with "chairs 9 and 7 spinning." Over at Snow Summit look for Chair 4 Beginner Area to be thrumming and the Miracle Mile neck of the woods, too. And at the base areas of both destinations? A party'll keep the opening day vibe in the right zone.
WANT TO BUY A PASS? You still can. Want to just catch opening day before heading back down the hill, back to your life and errands and job and such? It's thirty five dollars. No one would blame ya for just heading up to see what's happening on opening day, and no one would blame you for being caught a little off-guard by how early things are revving up, slope-style, in 2015. Keep on keepin' on, El Niño-esque conditions.
Copyright FREEL - NBC Local Media