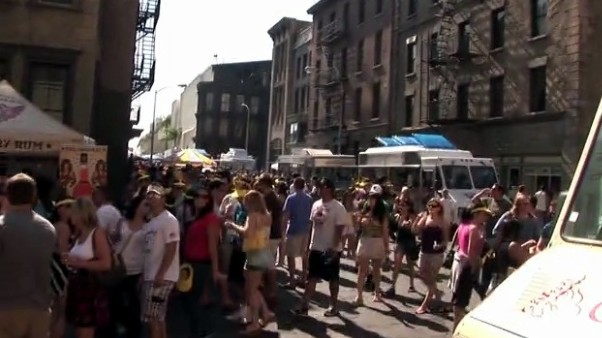 Like New Yorkers recognize certain streets in films -- hey, that's Sixth and Union in Brooklyn! Hey, I know that bodega! -- Angelenos sometimes recognize certain parts of the various back lots. This is not to say the buildings and streets are not well-dressed and well-propped and ready for action. But if you've been to the studios, or worked in the business, you begin to take a shine to certain faux structures.
And getting to spend a day among those? And have them not be on the big screen but rather all around you? And there aren't guys telling you to clear the set? And there are beverages and bites galore? A pleasure.
That's what's in store for Block Party from drink | eat | play. It's up on Saturday, July 30, the hours are 4 to 7 p.m., and given the multiple beers on tap, we'll call this one for the grown-up set.
Music-rockery and food-truckery will also abound.
So, what NYC-y building will you raise your mug to? Yeah, we always look for the five-and-dime from "Breakfast at Tiffany's." If only we had a George Peppard lookalike to skip hand-in-hand through the back lot with. Working on that now.
A ticket to Block Party is $40 for three hours.
Copyright FREEL - NBC Local Media