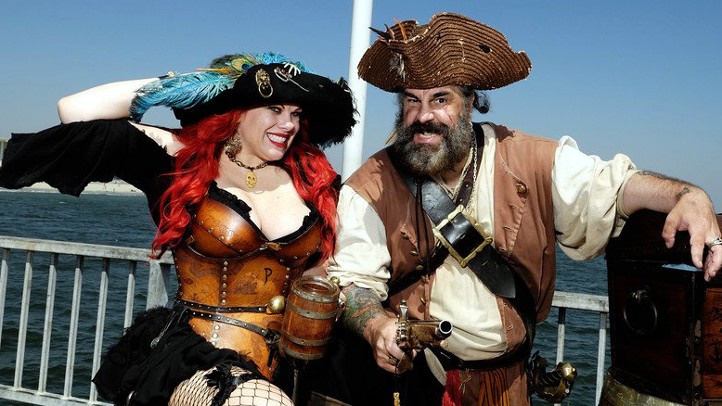 There was a day, not so long ago, where a fan of rousing, swashbuckling tales only had a few choices for enjoying their pastime. Rent a film with Douglas Fairbanks, dig out great-grandpa's breeches, and read "Treasure Island" for the twentieth time.
Pretty good choices, all, in our opinion.
But then fantasy pirates took off like a silent movie star swinging from a mast. Thank the "Pirates of the Caribbean" franchise for this quick ascension, thank the growing genre convention industry, or thank the internet, where like-minded swashbucklers can chat and plan grog-based meet-ups.
Whatever the case, pirate events now "arrr" throughout the year near California's coastlines. And next up? The Pirate Invasion at Belmont Pier in Long Beach on Saturday, June 30 and Sunday, July 1.
A marketplace, an area for little swashbucklers, and, wait for it, a "pirate food court" are all part of the high jinks. Oh yes, and people in stockings and fancy vests and shoulder-baring frocks, too.
Admission to Pirate Invasion is free; food and the extras are, well, extra.
If you've never been to a pirate-themed party before, count on a few things: The plank will likely be mentioned. "Avast" will be shouted. And there may be some spontaneous singing of ribald shanties, too.
Landlubbers, you up for it? Be brave, mateys as you sail your ship, or, um, drive your sensible sedan, for Belmont Pier. The pirate food court awaits.
Follow NBCLA for the latest LA news, events and entertainment: iPhone/iPad App | Facebook; | Twitter; | Google+; | Instagram; | RSS; | Text Alerts | Email Alerts
Copyright FREEL - NBC Local Media