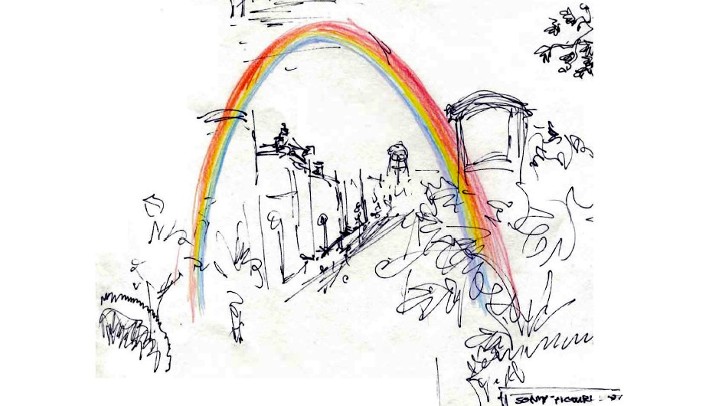 When Dorothy and Toto went over the rainbow and opened the door to a Technicolor Munchkinland, viewers around the world wondered just where that magical place might be and how one could find it.
Spoiler alert: Culver City is the place over the rainbow (actually, Culver is both sides of the rainbow, if you want to get technical). "The Wizard of Oz" began production on the Sony Pictures Studio lot, making rainbows and the city forever entwined.
Now an actual colorful arch will stand on the very lot where "Oz" shot in the form of artist Tony Tasset's "Rainbow." And, like a real rainbow, it will have a rather impressive size: The artwork will be "94 feet across by 188 feet tall." The mega bow will, in fact, span the distance between Thalberg building and Madison Gate, if you know your studio layout. If you aren't as familiar, the stretch is impressive.
"Rainbow" was announced last year but movement toward installation has now begun in earnest. Ground was broken a few days back with work on the rainbow has been going on off-site. Installation is expected this fall. Funding for the massive artwork comes, in part, from the Sony Pictures' Public Art Requirement.
There are differences between an actual rainbow and "Rainbow," of course. A rainbow in the sky is made out of water and refracted sunlight and the Sony "Rainbow" is steel polychrome.
We like it for its cheer and Oz-ian overtones, of course, but we're also fascinated with the over-sized and ginormous objects our city seems to be acquiring. "Levitated Mass" at LACMA comes to mind. So does the space shuttle headed for the California Science Center. And now a gargantuan rainbow at Sony. Being that LA is so shy and demure and non-attention-seeking, the contrast charms.
Oh, we kid: We're all about BIG here, so anything mega makes a fantastic fit. We hope the big and fanciful and interesting stuff keeps on comin'.
Follow NBCLA for the latest LA news, events and entertainment: iPhone/iPad App | Facebook; | Twitter; | Google+; | Instagram; | RSS; | Text Alerts | Email Alerts
Copyright FREEL - NBC Local Media