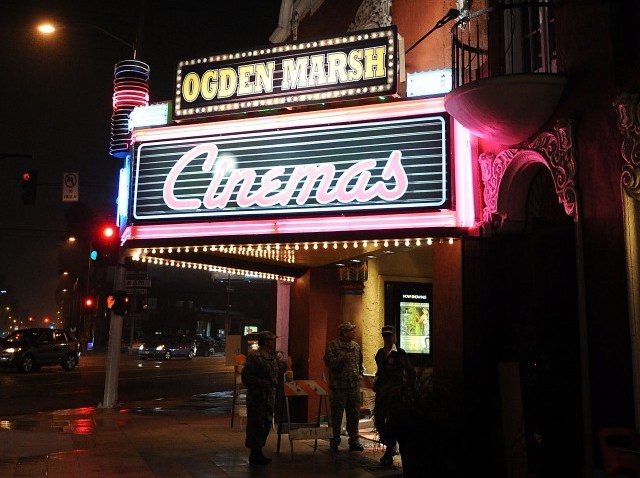 If you zipped down Sunset last night, did you do a double-take?
Maybe. Or maybe you're all jaded-Hollywood-whatevs about buildings that should look one way suddenly looking another. We fight that, daily, the jadedness. Failing, often.
But Thursday morning, we were delighted to see the vintage Vista, a jewel among our old movie palaces, dressed up as the Ogden Marsh Cinemas. It was all in service of a movie premiere on February 24th. Of course.
And, of course, if you know your horror-move lore, you know Ogden Marsh, Iowa, is the setting for "The Crazies," which opens on Friday, February 26th ("The Crazies" 1.0 debuted in 1973).
So it makes sense that, at the big premiere, they'd turn the Vista into a place that could be from the movie. There were also all sorts of zombie-fied actors wandering the area around the Vista and KCET. In case you saw a zombie drinking a zombie at the Tiki Ti.
If you're keen on seeing the flick, you likely know that the people behind the latest "Crazies" outing have gone full-bore into the Twitterverse and the "is-this-real-or-not" spectrum that movies sometimes do. (CoughBlairWitchcough.)
On second thought, we don't need to put sly coughs around "The Blair Witch Project" because we're still sweet on that scarer, and how the Blair Witchians used the Internet still deserves kudos.
Copyright FREEL - NBC Local Media