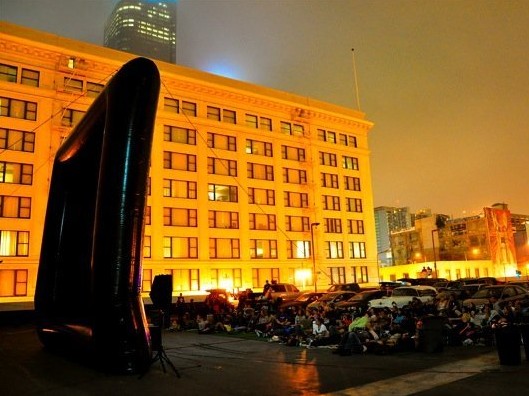 The Ferris Bueller Effect is back, and we couldn't be gladder.
It's a coincidence-serendipity-thingie-occurrence that seems to happen in bigger cities, and certainly ours. It's where the same not-new-ish movie plays on two different big screens over the same weekend. It happened with Mr. Bueller awhile back, and so we've been calling it that, because, well, it is easy. And Ferris appreciated easy. So it all fits.
The FBE over Valentine's weekend is centered on "Eternal Sunshine of the Spotless Mind," which is playing at both the Devil's Night Drive-in downtown on Saturday, Feb. 12 and ArcLight Hollywood on Sunday, Feb. 13 and Monday, Feb. 14. Meaning you could see this excellent film three nights in a row, and one of them outdoors.
Aw yeah.
The other instance of FBEism going down deals with one of the great actors, Bud Cort. You can enjoy the Cortian cinematic pleasures in two ways over Valentine's weekend. The Ace Hotel in Palm Springs is doing a full "Harold & Maude" weekend, which gets a hip-hip-hooray from these quarters.
And Cinefamily is having an "Electric Dreams" pajama party on Saturday, Feb. 12. Mr. Cort played the dry-but-needs-wuv voice of the computer. That's the first great thing about this '80s confection, and the second great thing is watching Virginia Madsen play cello. Hubba.
Equally great is that the great Lenny Von Dohlen play the heartthrob. And if you like Lenny Von Dohlen, you probably like "Twin Peaks" (ohhh, and he played a character named Harold, right? Now that we're thinking about it. Coininkidink.) And if you like "Twin Peaks," you should probably make plans to get to Clifton's Cafeteria, too.
Whew. Weekend, you have FBE'd it completely, so bravo.
Copyright FREEL - NBC Local Media