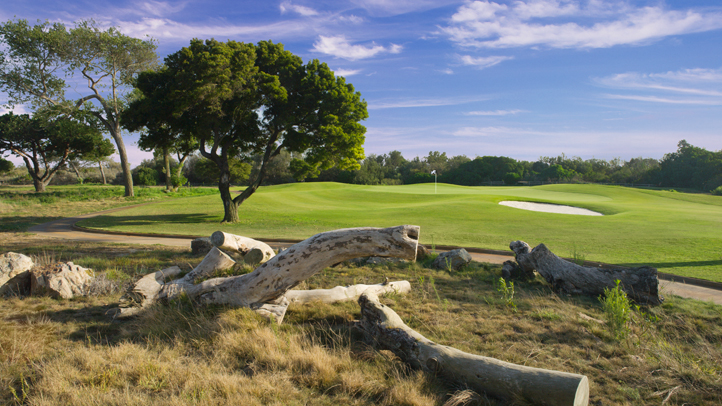 This article is sponsored by VenturaCountyWest, home to the idyllic destinations of Camarillo, Oxnard, Ventura and the California Channel Islands. To learn more about the stunning region, visit
VenturaCountyWest.com
.
If Bubba Watson's recent come-from-behind win at The Masters has inspired you to hit the fairway, look no further than
VenturaCountyWest
for your next golfing weekend. Located just an hour north of L.A. within the charming coastal cities of Camarillo, Oxnard and Ventura, is an impressive network of five public courses, each capable of challenging golfers at any level, from scratch players to high handicappers, while their dramatic settings offer magnificent ocean and mountain views.
But it's not only location, location, location that makes VenturaCountyWest the ideal destination for a three-day golf getaway. Home to some of SoCal's best wine bars, craft breweries and restaurants, the region's array of nightlife options ensure 19th hole revelry lasts well into the evening.
Luckily, given the close proximity of the courses, everything is within driving distance, making it easy to hop from golf hole to end-of-the-day watering hole. But rather than leave the itinerary up to you--because, let's be honest, you've got bigger things to worry about, like your putting game and keeping your ball out of the rough--we've put together the perfect three-day road trip sure to indulge your every need.
Day 1--Ventura
The three-day weekend begins with a morning round at Ventura's Olivas Links, an 18-hole championship golf course designed by acclaimed architect Forrest Richardson and voted the "Best Municipal Golf Course in the Nation" for the last three years by
Golf Week
. Or, play at nearby Buenaventura, a 6,000-yard course whose classic 1930s-era style feels like you're stepping back in time. Save some energy for the evening and head to
The Cave
for a wine tasting, or if beer is your preference, try sampling some of the dozens of draughts at
Anacapa Brewing Company
-- we recommend ordering the sampler of 4 oz. portions and pairing it with a pesto shrimp pizza. If you're not worn out by then, cap the night at the
Ventura Harbor Comedy Club.
Day 2--Oxnard
Start your morning by heading to Oxnard, where a day at River Ridge awaits. With two 18-hole courses on the docket, you'll tee off at The Vineyard (just remember to keep your eye on the pin rather than the expansive ocean views) before heading to Victoria Lakes, known for its water features, bent/poa grass greens and Greg Norman hybrid Bermuda tees and fairways. Once you've slipped off the golf spikes, take in the sunset with a stroll around Channel Islands Harbor, then order a Caipirinha and tuck into Brazilian cuisine at
Moqueca
, a local favorite.
Day 3--Camarillo
Round out the weekend at one of Camarillo's two courses. Sterling Hills' 18-holes are surrounded by lush avocado and citrus groves and punctuated by natural features that take advantage of the area's topography. Camarillo Springs is at the base of Conejo Mountain just off the 101 freeway. Designed by Ted Robinson, its views include towering rock formations and natural springs. Don't head home before grabbing a late lunch at
Lure Fish House
, known for its excellent oyster bar, local seafood and fresh produce.
For a full list of golf courses and other activities perfect for friends or family, visit
VenturaCountyWest
.