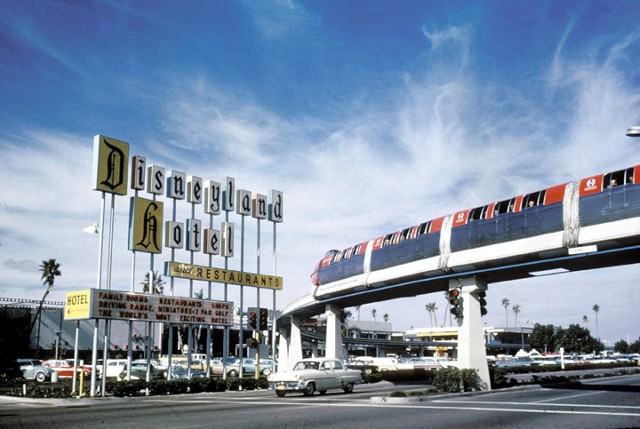 55TH BIRTHDAY: If we'd thought about it, when were were talking about Disneyland being started in 1955 and turning 55 earlier this year, we would have realized that the Disneyland Hotel would be reaching a similar milestone in a matter of months. Because the famous theme park and its famous (and first) hotel are forever linked in time and tone. Same place, same age -- well, the hotel's a wee bit younger -- and same shared history.
FOR EXAMPLE: The Monorail passed through Disneyland? It swooped tired park-goers back to the Disneyland Hotel. There's a Pirates of the Caribbean attraction, and a Big Thunder Mountain Railroad roller coaster, in the park? Check out the new swashbucklin' and yee-hawin' suites headed for the Anaheim-based inn.
WHEN YOU THINK ABOUT IT: And this is kind of obvious, of course. But when you think about it, it probably wasn't all that typical to visit a theme park and spend the night nearby, or even more so at the park, back in the day. People took the train or a railcar into Coney Island, and our own California boardwalks, and usually departed at night's end. The Disneyland Hotel made a second day at a theme park a way of travel. And a third day. And a fourth...
OCT. 5, 1955: The opening date of the hotel.
Copyright FREEL - NBC Local Media