The Internet has made buying Christmas gifts easy. The bad part is that it has also made it very boring. It seems like the same old gifts are given every year. For those who are ready to give Christmas gifts that don't suck, here are seven sites to check out.

FindGift.com
When visiting findgift.com, one thing stands out within moments. These gifts were not the usual items you'll find at Walmart or Macy's. You can get anything from a gourmet seafood basket to a wireless weather station.
They stock a nice selection of obscure gifts, including regional, eco-friendly, and hard-to-find items that nobody will accidentally duplicate. With next day delivery, last-minute gifts can be so unique that they look like they took weeks to plan.
Giving group gifts is often difficult. Collecting the money, picking out the gifts, getting it into the right hands – these are all hassles that just aren't needed in the busy Christmas season. eDivvy.com takes the pain out of giving gifts as a group by helping to organize it, collect the money, and ship it for you.
You pick the recipient, the gift, and the email addresses of those who may want to get involved. From there, eDivvy.com takes care of the rest. The "gift event" is emailed to everyone. Those who accept contribute to the fund online. Once the goal is achieved, the gift is sent either to the organizer or directly to the recipient. Simple.
Why have 5 people give an assortment of DVDs, sweaters, and other small gifts when they can give their loved one, friend, or co-worker an iPod or designer purse?


WorldVision.org

Select gifts from their gift catalog and honor someone special in your life by giving gifts that demonstrate God's love to the world's poorest children and families. For every item you select, they will provide a beautiful card showing your loved one how the gift given in his or her name will impact the life of someone in need.

So often, we give gifts to charities that fill a sentimental gap, such as toys, but we neglect the actual needs of the recipient. The gifts available to give to those in need are practical and will make a difference in lives. There are many options available, including giving:
a dairy cow
farming tools
chickens
life training
You can purchase these in the name of a loved one. They will receive a card that shows the gift in their name.
It may not be the flashiest website in the world, but it's definitely one of the most useful this time of year. CheapCheapCheap.com is dubbed as "an organization of money saving specialists" that lists the best deals on name brand items.
The grouping of the items is efficient with links under most that lead to accessories or different variations of the gifts. The site even has a rating system that allows users to rate the quality of the gifts and the prices and attach the rating to the items themselves.
GiftCards.com

When you think of one of the most useful and convenient gifts, one of the first things that come to my mind are gift cards. These allow the receiver to spend anywhere that accepts Visa so they are not limited to one store. But, even better than that, at giftcards.com you can personalize your visa card.
They allow users to upload images that will appear on the cards themselves as well as put in personalized text. This site also has merchant gift cards available if you know their favorite store or restaurant. Perhaps most importantly as Christmas nears – they have overnight delivery available.

PersonalizationMall.com

It is easy to personalize gifts with 21st century technology. PersonalizationMall.com takes it a step further by making the personalized gifts useful. Instead of the simple card, they offer gifts that are not normally associated with personalization.
Usually you find personalized coffee mugs or ornaments. In addition to these gifts, they have a huge selection that can be made specifically for your loved one such as jewelry, clothes, blankets, scarves and bags.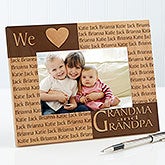 In San Francisco, there is a company that makes it easy to buy for those with a refined palate. BeyondGourmet.com offers a tremendous assortment of food and drink gifts that will impress anyone who enjoys taste.
With gourmet gift baskets, chocolates, wines, and other foods, there is something for just about anyone. They even offer books and DVDs on the subject. There is still time to take advantage of their free ground shipping.