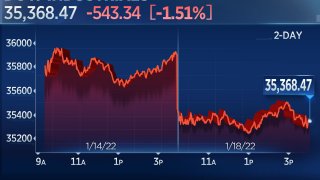 The major averages fell sharply Tuesday as government bond yields hit Covid-era highs and after Goldman Sachs reported disappointing earnings.
The Dow Jones Industrial Average slipped 543.34 points, or 1.5%, to close at 35,368.47. The S&P 500 fell 1.8% to 4,577.11, and the Nasdaq Composite declined 2.6% to 14,506.90, hitting its lowest level in three months.
The technology-focused Nasdaq sits more than 10% from its most recent high and closed below its 200-day moving average for the first time since April 2020. The small-cap benchmark Russell 2000 slid nearly 3.1%.
U.S. markets were closed Monday due to the Martin Luther King Jr. holiday.
Goldman Sachs shares dropped nearly 7% on Tuesday after the bank missed analysts' expectations for its fourth-quarter earnings. Goldman's operating expenses surged 23% on increased pay for Wall Street employees.
Meanwhile, Treasury yields posted strong gains. The closely watched 2-year yield broke above 1% for the first time since February 2020, the month before the pandemic declaration that sent the U.S. economy into recession. The 2-year Treasury is seen as a gauge of where the Federal Reserve will set short-term borrowing rates.
Rates rose along the yield curve, with the benchmark 10-year note topping 1.87%, its highest since January 2020. The 10-year yield started 2022 around 1.5%.
"The bond market is continuing to price in a more aggressive policy tightening by Federal Reserve based on still-high inflation and the Fed's more hawkish guidance," said Kathy Bostjancic, the chief U.S. financial market economist at Oxford Economics.
"A fairly aggressive Fed tightening path will lead to somewhat lower valuations as economy-wide growth should slow as the Fed tries to soften the pace of demand," Bostjancic added.
Elsewhere, Microsoft dipped 2.4% after announcing the software giant will buy video game company Activision Blizzard in an all-cash transaction valued at $68.7 billion. Shares of Activision Blizzard surged 25.9%.
Retailer Gap shares fell 6.7% after Morgan Stanley downgraded the retailer.
Technology stocks declined on Tuesday, continuing their downward trend in 2022 as interest rates rise. Higher rates typically hurt growth pockets of the market that rely on low rates to borrow for investing in innovation. Further, their future earnings look less attractive when rates are spiking.
Tesla dropped 1.8% on Tuesday. Meta Platforms and Amazon fell 4.1% and about 2%, respectively.
The shortened trading week will feature quarterly reports from 35 companies in the S&P 500, including Bank of America, UnitedHealth and Netflix.
Major banks Wells Fargo, JPMorgan Chase and Citigroup kicked off the earnings season on Friday, with the three companies posting better-than-expected profits. However, the market's reaction to those results was mixed. Wells Fargo shares posted a gain on the back of those results, but JPMorgan Chase and Citigroup slid.
Overall, 33 S&P 500 companies have reported calendar fourth-quarter earnings thus far, according to FactSet. Of those companies, nearly 70% posted bottom-line results that beat analyst expectations.
"Recent economic data is further confirming the economy is indeed slowing due to omicron. Retail sales, consumer confidence, industrial production, and the Empire State manufacturing all told a similar story, our economy is slowing and worries are growing," said Ryan Detrick of LPL Financial. "This isn't the end of the world though, as we expect any near-term slowdown of output to simply be pushed back to further quarters once the omicron worries subside."
The spread of the omicron Covid-19 variant has raised questions over the state of the global economic recovery ever since news of its discovery broke. Some countries and regions reinstated lockdowns and other social distancing measures to curb the outbreak.
However, recent data indicates the spread may be easing. In New York, the seven-day average of daily new cases has been falling since hitting a record earlier this month, according to data compiled by Johns Hopkins University. In Maryland, daily infections are down 27% week over week. Cases are also falling in South Africa and the U.K.
Subscribe to CNBC PRO for exclusive insights and analysis, and live business day programming from around the world.
Copyright CNBC