A Marine, his wife and their two dogs were killed in a fiery collision on Interstate 5 Saturday night, California Highway Patrol officials confirmed.
The fatal crash happened around 10:40 p.m. on southbound Interstate 5, just north of the San Onofre Inspection Facility near Camp Pendleton and Basilone Road.
CHP officials say a Silver Chevy Silverado truck occupied by the man, woman and dogs was traveling in the third lane at an unknown rate of speed when, for unknown reasons, the vehicle veered to the right, slammed into a pole and exploded.
The pole that the truck crashed into is a pre-pass scanner that allows commercial vehicles to bypass the scales at the inspection facility, CHP officials said.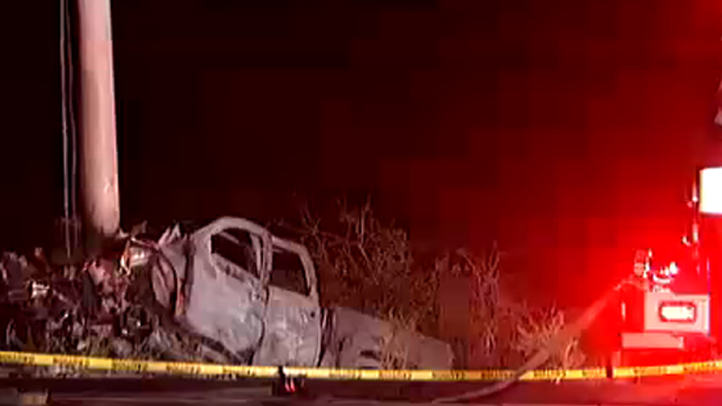 A motorist that was changing a tire on his own car on the side of the road witnessed the crash and explosion.
The witness told CHP officials that the truck veered into the pole suddenly, and that he could hear the male driver yelling for help following the crash.
The witness said the driver was unable to get the door open before the truck became engulfed in flames.
Officials say the man, woman and two dogs trapped inside the car died at the scene. Due to the severity of the fire and extensive damage to the truck, the charred remains of the victims were not immediately identified.
By Wednesday, the Medical Examiner's office had released the name of the woman killed in the crash, identifying her as 23-year-old Oceanside resident Shardeh Danielle Watkins.
The ME report says Watkins was married to the 23-year-old male driver of the truck. His name has not yet officially been released, but Watkins' Facebook page says her husband was a Marine named Gerrick Watkins.
Both victims died from multiple blunt force injuries sustained in the crash.
The deadly collision remains under investigation.