Lakers great Magic Johnson and other members of the ownership group that took control of the Los Angeles Dodgers Tuesday after the ups, downs and general mediocrity of the Frank McCourt era talked Wednesday about their plans for one of baseball's most storied franchises.
Read: About the New Owners | The Changeup: New Era for Dodgers, Frank McCourt Timeline
The Dodgers principal owners -- Johnson, former Atlanta Braves president Stan Kasten and Guggenheim Baseball Partners CEO Mark Walter -- were at a news conference Wednesday morning at Dodger Stadium. Legendary Dodgers announcer Vin Scully introduced the three co-owners, part of the Guggenheim Baseball Partners group.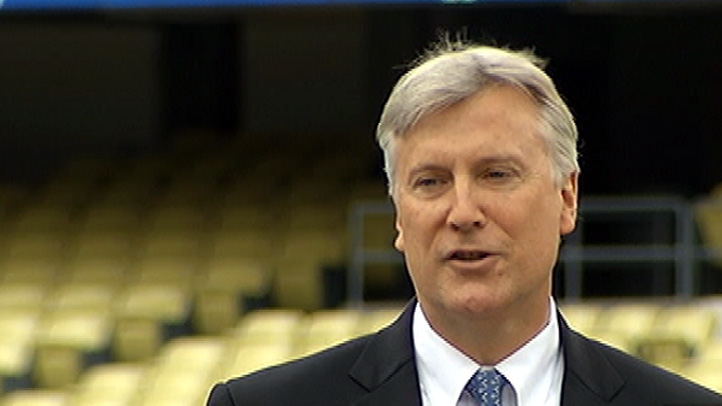 "As much as this is a big day for us, it's really not about us," Walter (pictured, right) said. "This is about the Dodgers -- one of the most honored and storied franchises in history. The Dodgers are about the fans, the players... and this community."
During his address to a crowd that included Dodgers greats Don Newcombe, Maury Wills, Tommy Davis Steve Garvey and others, Johnson twice mentioned the O'Malley family. The Dodgers have won six World Series titles but none since 1988, when they were still owned by the O'Malley family that moved the team from Brooklyn to California after the 1957 season.
"We're going to outwork everybody," Johnson said. "I can't wait until my office is done. It's going to take time to build this into the franchise Mr. O'Malley had before. But we're going to get back there. Believe this, we're going to win again."
Before introducing Kasten, Johnson provided another reason for Dodgers fans to celebrate -- general parking rates would decrease from $15 to $10. Johnson did not say when the pricing would change, but apologized to Kasten for not mentioning it in his energetic address to the crowd.
"I'm so hyped and into this I forgot to mention general parking is going from 15 down to 10," Johnson said. "Stan, excuse me -- I'm just excited. I'm passionate."
The long-awaited sale was finalized Tuesday, bringing McCourt's ownership of the organization to an end and opening a new chapter for a team that struggled on the field last season amid turmoil in the front office and dwindling attendance figures.
Wednesday's news conference is the first by members of the Guggenheim group. A judge approved the $2.15 billion sale April 13 after a monthslong dispute in bankruptcy court involving the Dodgers and Major League Baseball.
"It didn't hit me until just a few minutes ago when I was introduced by Vin Scully," said Kasten, who outlined three key elements of success. "The team, the fan experience and our relationship with our community. I could spend an hour on each of these subjects, and I'm just coming off a six-month gag order -- I've got a lot to say."
MLB Commissioner Bud Selig, who appointed a financial monitor to oversee the Dodgers last spring, said he is pleased the sale is final.
"It is my great hope and firm expectation that today's change in ownership marks the start of a new era for the Los Angeles Dodgers and that this historic franchise will once again make the city of Los Angeles proud,'' Selig said in a statement. "I want to personally thank all Dodger fans for their patience and loyalty during this trying period. I have said many times that we owed it to them to ensure that the club was being operated properly and would be guided appropriately in the future."
There were few reasons for optimism at this point last season. It was in April 2011 when Selig announced he planned to appoint a monitor to oversee Dodgers operations. In June, Selig rejected a proposed deal involving the Dodgers and Fox, and the organization filed for bankruptcy protection June 27.
One month into the 2012 season, LA has an NL West-best 17-7 record and a four-game lead over second-place Arizona. Although that has more to do with the play of Matt Kemp than the front-office shakeup, the Dodgers star said he senses the team is off to a fresh start.
"I think the fans of LA are pretty excited about the new ownership and what it's bringing. As long as L.A. is happy, I'm happy,'' slugger Matt Kemp said. "As long as we're winning, I'm happy.''
Kemp had it right, fans are happy.
"I hadn't worn this shirt in four or five years," said Sandy Davis, pointing to his Dodgers jersey. "And I love the Dodgers".
While the Dodgers struggled the past few years under McCourt, Dodgers fan Anthony Tamayo stayed away, but said the new ownership will bring him back.
"I stopped going," Tamayo said. "Now, I told my wife we need to start buying tickets to go watch them because we need to support them. We have to, LA number one, baby."
The Dodgers play at Colorado Wednesday.
"It's the end but it's also the beginning,'' Cy Young award winning pitcher Clayton Kershaw said Tuesday. "It's a cool time.''
As for McCourt, he was required to pay former wife Jamie $131 million as part of a divorce settlement, but he won't leave empty-handed. McCourt, in a joint venture with the purchasers, retains a 50-percent interest in the property surrounding Chavez Ravine and the parking lots.
The Boston real estate developer bought the Dodgers in 2004 for $430 million form News Corp. -- a relative bargain compared to the astounding figure the Guggenheim group offered.
The Dodgers made the playoffs the first four out of six seasons under McCourt's ownership, but the off-the-field divorce saga took attention away from the team.
Their spending habits -- "lavish" comes to mind -- were revealed in court documents and testimony.
Follow NBCLA for the latest LA news, events and entertainment:iPhone/iPad App | Facebook| Twitter | Google+ | Instagram | RSS | Text Alerts | Email Alerts
Published at 6:58 AM PDT on May 2, 2012 | Updated at 7:04 PM PDT on May 2, 2012