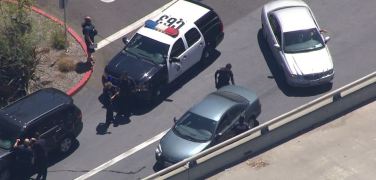 Police detained two possible burglary suspects at the Westfield Culver City mall Friday afternoon.
During a search, officers blocked off several entrances and exits to the shopping center for about an hour.
Aerial footage of the property - also known as the Fox Hills mall - showed police checking some cars leaving the mall.
Two suspects were detained, according to LAPD media relations.
According to police there was a short pursuit that ended about a minute later at the mall just before the shopping center search began.
No further details were immediately available.