Anaheim residents sounded off on a series of police shootings and protests during a special City Council meeting Thursday afternoon, saying police have been abusive in Orange County's largest city.
The meeting, slated for a closed-door discussion of the safety of its public facilities and a lawsuit alleging that the city's electoral process has limited minority representation, came in the wake of rising tensions between police and local residents.
"You sit there and wonder why we riot or people riot, or people act crazy. They're taunting us," said Corie Cline, who said a relative of hers was shot by police.
Anaheim Police Shootings: Timeline, Photos, Articles
About 50 people attended Monday's special meeting, where council members listened to about an hour's worth of comments from residents.
The council met in closed session to discuss a lawsuit, filed in June by the American Civil Liberties Union, that claims Anaheim's at-large election system has led to "vote dilution" for the city's Latino residents.
"The prevalence of racially polarized voting ... combined with a history of discrimination in the city that still impacts the Latino community reveals a lack of meaningful access for Latinos to the political process in Anaheim," the lawsuit stated, adding that the city has had only three Latino council members in its history.
Local
Get Los Angeles's latest local news on crime, entertainment, weather, schools, COVID, cost of living and more. Here's your go-to source for today's LA news.
Latinos made up 53 percent of Anaheim's population in 2010, according to the U.S. Census.
At the meeting, council members did not respond to public comments.
The special session marked the first council meeting since July 24, when a violent protest erupted outside Anaheim City Hall and led to smashed windows, fires and at least one person's hospitalization after being shot in the head with a pepperball.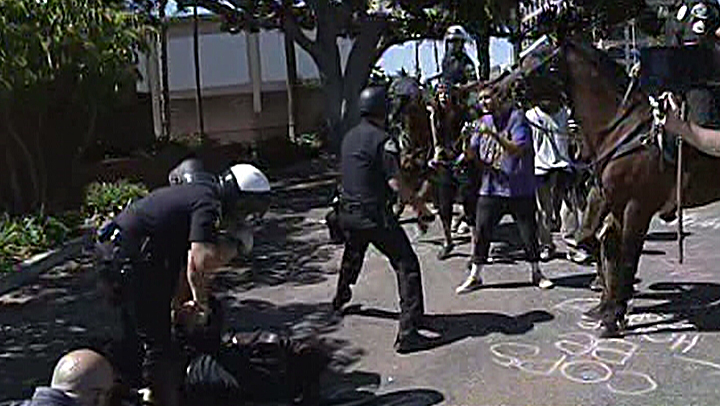 The protests followed two fatal police shootings that have incited longstanding tensions in the city.
Residents at the meeting Thursday said they had been treated improperly by Anaheim police, whom one woman called "equal-opportunity killers."
Theresa Smith said her son Cesar Cruz was chased by officers and fatally shot in 2009 -- a case in which the Orange County District Attorney concluded there was no wrongdoing by the officers involved.
"My son, regardless of whether he was a gang member or not, regardless of what his past was, my son was a human being," Smith said.
After her son's death, Smith went on to create the "Anaheim Crusaders," which has protested weekly against the police department in front of its headquarters.
Other residents at the meeting said they were worried that a riot could ensue, depending on council actions.
"There are too many uncertainties right now as to exactly what's going to happen. We do have outside people who are going to come into our city and create an unrest," resident Thomas Holguin said. "That is unacceptable."

The next regular City Council meeting is scheduled for Aug. 21.
Follow NBCLA for the latest LA news, events and entertainment: iPhone/iPad App | Facebook | Twitter | Google+ | Instagram | RSS | Text Alerts | Email Alerts