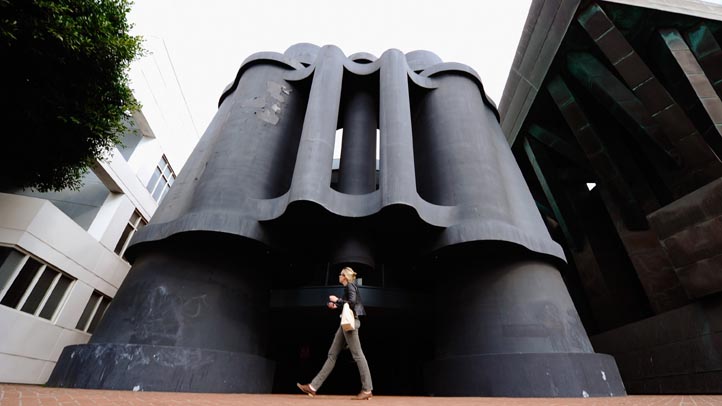 Searching for that Googleplex vibe in Southern California, Google Inc. is opening a 100,000-square-foot campus in Venice on Thursday, said a company spokesman.
The three-building complex, which includes Frank Gehry's Binoculars Building (pictured, above), will help unite the company's more than 500 SoCal employees, who were previously spread out over three sites, Google spokesman Jordan Newman said. The new facility is expected to mirror the culture of the company's Mountain View, Calif.-based headquarters, known as the Googleplex.
"That kind of campus vibe is something we try to create as much as possible," Newman said.
Local
Local news from across Southern California
On-site amenities include a cafe with free food, a wellness center/gym, massage rooms, and -- as a nice SoCal touch -- surfboards are available for check out. The site is a couple hundred feet from the beach (map).
Mayor Antonio Villaraigosa is scheduled to speak at the facility's opening ceremony on Thursday.
About one-fourth of the LA employees are in sales, and approximately three-fourths are in engineering. In 2011, Google added 100 jobs in LA.
"This site really allows us to really grow and accommodate all those new people who've come to Google over the past year," Newman said.
The LA concentration is also a chance for the company to cater some of its bigger clients, including networks and studios, Newman said.
Google has posted its LA job openings online.
Follow NBCLA for the latest LA news, events and entertainment: Twitter: @NBCLA // Facebook: NBCLA