Voluntary evacuations were taking place and a flash flood watch was in effect in SoCal ahead of a powerful storm due to hit the area Tuesday Morning.
Updated Article: Homeowners "Beyond Nervous"
It comes after a Sunday soaker that brought more than an inch of rain to some parts of Southern California.
Voluntary evacuations for the Silverado Canyon burn area are planned to take place at 8am due to potential flooding and debris flows. The evacuation advisory is for homes east of 30311 Silverado Canyon Road. The voluntary evacuations have a potential to be upgraded to mandatory evacuations during the storm.
In Glendora at 6am, the alert level is being upgraded to Orange which means voluntary evacuations will also take place. This alert level effects residents in the Colby Fire Impact area.
Crews fresh from a rock slides slide in Ventura were bracing for up to 2 inches of quick falling rain, while people were preparing for even worse in Azuza where there could be a possible 5 inches of rainfall.
It comes less than a year after the disastrous Colby fire, which torched the mountain side and left the area prone to mudslides. Resident Ed Heinlein, who is preparing for the latest bad weather as best he can, has already been affected, while others were evacuating their homes until the storm passes.
Local
Get Los Angeles's latest local news on crime, entertainment, weather, schools, COVID, cost of living and more. Here's your go-to source for today's LA news.
Storm Photos: Send Images to isee@nbcla.com
"It was all the way four feet around the house. This whole area was under four to ten feet of mud. Last year during the flash flood they said it came down at 60 miles an hour," Heinlein, said, "I'm gone beyond nervous, I'm down to the grim reality of you fight it, you do what you can, you deal with it. You can't sit around worrying about it, you work through it."
The next round of rain is expected to arrive Tuesday morning. It could possibly hit during the morning commute, and continue into Wednesday. Rain totals are forecast to exceed those of Sunday's storm, which dropped just over an inch of rain in Whittier, Agoura Hills and other communities.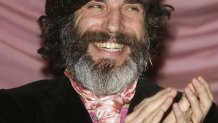 "It will really start to hit us around lunch time Tuesday," said NBC4 forecaster Crystal Egger. "We'll be in and out of the showers all day."
Projected rainfall amounts include nearly 2 inches in Temecula and more than an inch in San Bernardino, Santa Ana, Long Beach, Malibu and downtown Los Angeles.
National Weather Service forecasters issued a flash flood watch for Tuesday for recent burn areas in Los Angeles and Ventura counties.
The City of LA was offering residents up to 25 free sandbags so property owners are prepared for the rain, and stressed damage can be minimized by strategic placement of sandbags.
"We know that burn areas are hit the hardest, and we haven't had any fresh burn areas in this area for quite a while. But they need to get it done as soon as possible." Paul Medina of LA City Fire said.
In the fire-scarred areas of Silverado Canyon, residents were preparing for possible mud flows. Emergency officials issued a warning to residents and even suggested voluntary evacuations beginning at 7 a.m. Tuesday. They said Silverado Canyon Road could potentially be closed.
Residents in the 40 to 50 homes from 30311 Silverado Canyon Road to the end of the canyon were advised to evacuate the area, Orange County sheriff's officials said.
City officials in Glendora warned residents near the Colby Fire burn area to prepare for possible mudslides and debris flows. An evacuation center will be set up at the Crowther Teen & Family Center, 241 W. Dawson Ave. for residents who choose to voluntarily evacuate.
The Inland Valley Humane Society will be available at the center to offer assistance with pets. Horses can be taken to the Pomona Fairplex, 1101 W. McKinley Ave.
A large amount of rainfall could be "enough to take out houses," said Ann Blythe, an Occidental College geologist specializing inthe study of the San Gabriel Mountains.
The Colby Fire stripped hillsides bare, and the drought has left soil loose and mobile, Blyte said. The mountain range contains some of the steepest bedrock in the world and storms tend to saturate the soil very quickly.
County crews were standing by to clear out basins, which were filled by at least a quarter worth of debris left behind by recent rain.
Southern California saw partly cloudy skies Monday after a daylong rainstorm that continued into the overnight hours. Heavy downpours were reported overnight before the storm began moving out of the region.
Steady rains that totaled more than an inch weakened soil on hillsides above Pacific Coast Highway in Malibu, causing mudslides that stranded drivers. About 10 to 15 vehicles were marooned at Sycamore Cove, west of Zuma beach, and crews said the road might remain closed through Tuesday for the cleanup.
In Glendora, residents stacked sandbags in front of properties below the Colby Fire burn area. A Yellow Alert is in effect for neighborhoods in the area, meaning rain-related parking restrictions are being enforced and residents should remove vehicles, trash bins and other items from streets.
[NATL-DO-NOT-USE] Extreme Weather 2014
The upcoming storm will likely bring rainfall and possibly snow to a widespread area of California, which has received only light to moderate rainfall since Oct. 1, the start of the drought-stricken state's water year. Three years of drought have left the state's water reservoirs at critically low levels as snowpack in the Sierras, a critical source of spring runoff shared by 25 million Californians, has diminished.
About 2 feet of snow is possible in the Sierra above 7,000 feet.
Nearly 80 percent of the state is under extreme drought, the second most severe category listed by the U.S. Drought Monitor. One year ago, about 28 percent of the state was under the severe drought category.
Significant drought relief would likely require a strong El Nino system, the tropical Pacfic Ocean phenomenon that affects weather patterns. Strong El Nino systems draw moisture into California, but a weak system probably would not generate enough rainfall this winter to significantly improve drought conditions.
The latest estimates place the chance of El Nino at 58 percent.
Gordon Tokumatsu and City News Service contributed to this report.