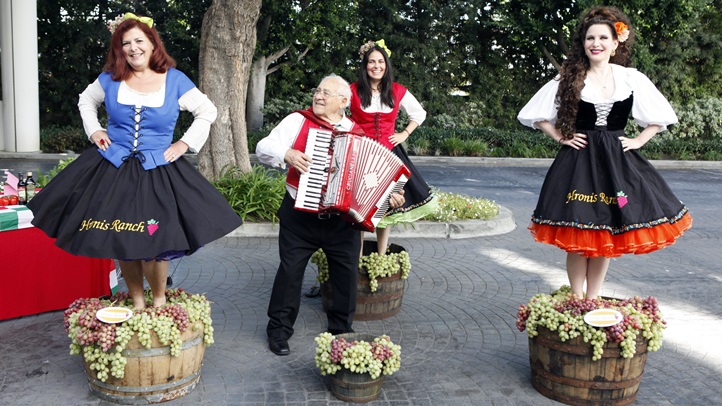 The 15th Annual Galbani Cheese Feast of San Gennaro: The arrival of fall in many cities means the fluttering of red, green, and white streamers over a city street, and bocce ball showdowns, and string-gooey calzones, and an effervescent expression of Italian arts, foods, and sounds. LA's party grandly revels in Hollywood, near Hollywood High, from Friday, Sept. 23 through Sunday, Sept. 25. It's five bucks for adults, free for kids 12 and under, and full of buskers, rides, musicians on the stroll, and all the touchstones of a traditional street celebration.
Redondo Beach Lobster Festival: No one is going to tell you not to enjoy melty buttery dipping sauce after September, but the time for that treat is truly late summer 'round SoCal, when the lobster fests reign. Those are winding down, with this savory Seaside Lagoon lark doing one final weekend push for those who love their briny bites. The to-do runs three days, from Sept. 23 through 25, and there are a few ticket options, when it comes to the lobster dinner choices.
Wiggle Waggle Walk: If you asked your Rhodesian Ridgeback, or your Pekingese, if they'd like to spend the morning of Sunday, Sept. 25 at Brookside Park, near the Rose Bowl, among other pups (and their people) raising funds for furry friends in need (of homes, medical care, love 'n attention), the answer would surely be "yes!" (which might sound like a woof). It's a fundraiser for the Pasadena Humane Society & SPCA, which assists "nearly 12,000 animals" each year.
Local
Local news from across Southern California
Happy 50th, Gamble House: It can be slightly mind-bending to wish a landmark that famously came into being 'round 1908 a happy 50th in 2016, but that's the story with the beloved Pasadena Craftsman wonder. The Gamble family gifted the home to the city and USC 50 years ago, opening it to the public, and so the public shall celebrate on Sunday, Sept. 25. Walk-up tickets are limited, but the price to see it that day? A buck.
Roaring Twenties Street Jam: While many things are said about Southern Californians, this one is true: They like a good era-specific dress-up opportunity. Look to Dapper Day at Disneyland, and look to this Griffith Park hullabaloo (which is not related to Dapper Day but shares its vintage spirit). Join a jazzy picnic on the lawn near the Merry-Go-Round and dance the evening away, too, on Sunday, Sept. 25. "Dress to IMPRESS" is the word on the street, flappers and swells of SoCal.
Copyright FREEL - NBC Local Media