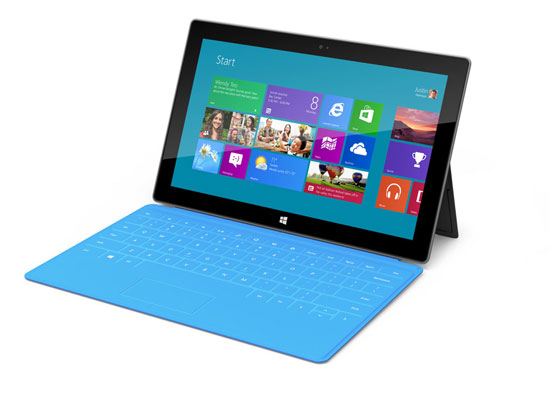 It took two years and three iPads later, but Monday, at a special event in Los Angeles, Microsoft unveiled its answer to Apple's tablet: the Surface. (No, it's not that Surface.) The Surface runs Windows 8 and is the slickest hardware Microsoft's released since the Xbox 360.
Steve Ballmer opened the event by saying that the Xbox 360 was successful because Microsoft gave partners a strong hardware platform to deliver their content on — resulting in a synergy of hardware and software that's put the machine at the top of the sales charts. The strategy is not dissimilar to how Apple's vertically integrated infrastructure of software and hardware have yielded successful iOS and Mac products, year after year.
An Engineering Marvel
U.S. & World
News from around the country and around the globe
The Surface is a 9.3mm thick tablet cut from liquid metal magnesium with a 10.6-inch display (1366x768 resolution). It weighs 1.5 pounds and has sides that are cut at a 22-degree angle — so that it "feels natural in your hands." It's got a full-sized USB 3.0, a DisplayPort, microSD card slot and its rear has a pop-out kickstand.
Whereas iPads are mostly used as consumption devices, Windows machines are mostly used as productivity machines. Microsoft realized this and instead of alienating those users, it also designed a magnetic keyboard cover called the "Touch Cover" (like a Smart Cover) made from Northwest polar tech that turns on a multitouch keyboard and trackpad. It also doubles as a cover to protect Surface's display. And it's only 3mm thick. Unbelievable.
If you're an old bird who just can't let go of tactile buttons, there's also a Type Cover that has clicky keys and a trackpad.
Microsoft's President of Windows and Windows Live Steve Sinofsky said on stage that, "Typing is twice as efficient as typing on glass" and that each press "measures touch faster than any keyboard you can use today."
What about heat dissipation? Microsoft's got that figured out, too. Surface uses "perimeter venting" all along the underside of the Surface, so you "never block it with your hands."
Picking The Right Surface For You
Naturally, the Surface will run Windows 8. There will be two models. One will run Windows RT (Metro Windows 8) and the other will be an Intel-powered Windows 8 (runs the Pro version of Windows 8; that includes classic view).
The Windows RT Surface will come in 32GB and 64GB capacities, while the Intel Surface will sport 64GB and 128GB storage options and all of the specs are as stated above.
The Intel-powered Surface is slightly thicker at 13.5mm and weighs 1.9 pounds. It's also got a sharper high resolution display — a ClearType Display.
According Michael Angiulo, Microsoft's Corporate Vice President for Microsoft, the Intel-powered Surface uses less power than the latest Ivy Bridge Core i5 processors and "rivals that of the best Ultrabooks that have ever been announced." That's a bold statement to make.
There's also a stylus that can input "digital ink" at 600 DPI. In layman's terms, it should feel just like writing on paper, with virtually no lag. We're skeptic about the revival of the stylus for tablets, but if Microsoft's sorted all the jankiness, we're down to give it another try.
Is Microsoft Too Late?
As with the Zune HD and Windows Phone 7, Microsoft's fashionably late to the tablet party (even the event in L.A. started off late). While it can be argued that the iPad has had no real competitor aside from a few Android tablets sprinkled here and there, Microsoft's Surface presents a chance to disrupt the iPad's market domination, if the tablet is priced competitively.
Microsoft deliberately left out details on specific pricing and availability. If the Windows RT model doesn't sell for $500 or under, it'll be dead on arrival. However, Sinofsky did say that the Intel version of Surface will be priced "comparable with competitive Ultrabook class PCs." So, roughly, $800 and up for the higher-end Surface.
From what we've seen, the Surface definitely looks like a sweet piece of kit. Microsoft just needs to convince consumers that it is, too.
Does Microsoft's Surface stand a chance against the iPad and Galaxy Tabs? Sound off in the comments below.
Copyright DVICE - DVICE