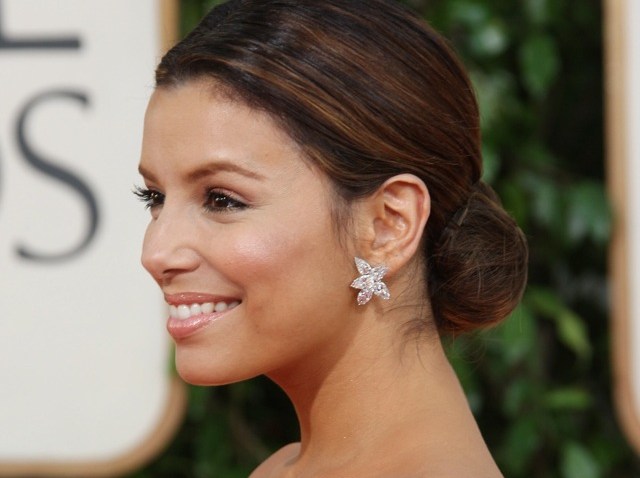 Eva Longoria Parker made a splash earlier this week when a promo for the MTV Europe Music Awards hit the web showing off her rapping skills, and she's pleased the clip has been such a hit.
"See, another thing I can add to my resume is rapper," the actress, who will host the MTV EMAs on November 7, told Access Hollywood at Thursday's premiere of "Latinos Living The American Dream," which she produced and directed in partnership with Pepsi's YO SUMO initiative.
VIEW THE PHOTOS: 'Desperate' Diva Eva Longoria Parker
U.S. & World
News from around the country and around the globe
Although her husband — NBA star Tony Parker — raps, she didn't ask him for pointers.
"Tony raps, he has a rap album. No, Tony did not help me," she said of her husband, who has released a hip-hop album in his native France.
VIEW THE PHOTOS: 2010 MTV Video Music Award Arrivals
In Eva's rap EMA video (Click HERE to watch), she wore a sexy black cut out outfit as she tossed out lyrics about her life.
Eva said filming the clip helped build up her anticipation for hosting the EMAs.
"It was a lot of fun doing the promo for MTV and I can't wait to go host those awards. It's in another month, so hopefully I'll be healed up by then," she added, referring to the stiffness that resulted from a minor auto accident she was involved in, in Los Angeles on Wednesday.
VIEW THE PHOTOS: Daring! Dramatic! Fabulous! Hot Shots Of Hollywood's Divas
Eva said the incident, which occurred when another driver allegedly turned left in front of the "Desperate Housewives" star, left her a little banged up.
"I've been better. Got in a little fender bender…" she said. "I'm fine. I'm just so sore and stiff today, so it's kind of hard to turn my neck."
VIEW THE PHOTOS: Eva Longoria & Tony Parker Wedding
Despite the pain, Eva said there was no way she was going to miss the premiere of "Latinos Living The American Dream."
"I could not miss tonight because it was a really big night for this documentary I directed — my directorial debut," she said.
Eva explained that her documentary was originally inspired by the census.
"It's exciting. Pepsi had this amazing campaign for the census and we kind of wanted to take the idea a little further and do a documentary showing ordinary people doing extraordinary things and how Latinos are shaping the landscape of America," she said.
The actress said that during her first stint behind the camera, things went well because she took charge.
"Well, l I'm naturally bossy and so I think I did pretty well," Eva laughed. "You have to talk to the cast and see what they thought."
Copyright 2010 by NBC Universal, Inc. All rights reserved.
This material may not be published, broadcast, rewritten or redistributed.
Related Content from AccessHollywood.com:
PLAY IT NOW: Style Stars Of The Week: Eva Longoria Parker & Kate Beckinsale Show Off Cannes Couture!
PLAY IT NOW: Eva Longoria Parker Talks Fender Bender, Her Directing Debut & Her MTV Rap
More from Access: [ Eva Longoria Parker TV One MTV ]
Copyright NBCAH - Access Hollywood