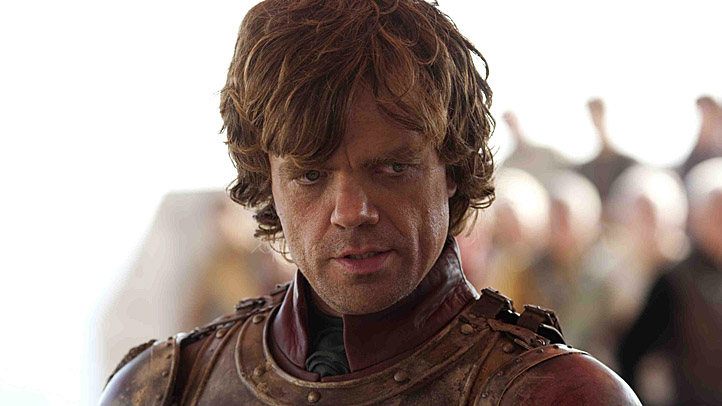 If you play the Game of Thrones, you win or die. Fortunately, if you just watch "Game of Thrones," you only win.

HBO's hugely popular epic fantasy returns to TV on April 1 with a second season of armor, intrigue, underhanded power plays, frequently unclothed damsels and, of course, dragons. PopcornBiz has heard the whispers from the great halls of Westeros.

Peter Dinklage, who's won an Emmy and a Golden Globe for his beguiling portrayal of Tyrion Lannister, the roguish black sheep of his wealthy and powerful family, says that even the most faithful fans of author George R.R. Martin's bestselling book series will be caught off guard by the twists and turns of the new series.

"We have to change some things for television," says Dinklage. "You can't do a lot of what's in the books because we don't have the budget, or the time. But we'll keep faithful to the original story and what happens, and which characters live and die…That's the great thing about this show. The villains live and the heroes die. It's unexpected."

This time around, Dinklage promises even more epic, large-scale battle sequences. "And it was great because Tyrion gets in on the action," he says, "which is a big change from laying around with naked women all day."

The last time viewers saw the much-tested heroine Daenerys Targaryen, she'd emerged naked and unharmed from her husband's funeral pyre with a trio of new companions: dragon hatchlings from the much-coveted eggs held by the Dothraki.
"I've been excited about working with my three new 'cast members,'" giggles actress Emilia Clarke. "There's definitely more in store for everyone – It's just bigger and better."
U.S. & World
News from around the country and around the globe
"It's a healthy mix. We've all got a lot going on. I'll put it that way," said Clarke when asked how big a role Dany will play in the Season 2 kickoff. She added that she was surprised by some of the divergent paths the show chose to follow, away from the novels. "I was already into the second book, so I had a rough idea about where I'd go, but it was pretty nerve-wracking."
"It gets darker, definitely," hints Kit Harrington, who plays Eddard Stark's bastard son Jon Snow. "The first series is pretty brutal, but the second series, as people who read the books know, gets very, very dark. A lot of the characters don't have a very easy time of it. It's still got a few shocks and surprises, and you see really pretty horrific things."
"No one is safe," adds Harrington. "People die. It's a risky show to be in, in a way, but I can say that my character goes into more and more dangerous territory and things occur….I get more and more isolated, if anything."
"There's a great arc with Cersei and Tyrion, which is very fun," promises Lena Headey, who admits she hasn't yet cracked one of Martin's novels. "The scripts are my books. And David Benioff and Dan Weiss just do such an amazing job for all of us, as actors and individuals – and now they know us a bit more, we get written for more, and they genuinely love the characters."

Finally, regarding last season's most shocking moment (turn back from the spoiler if you've yet to watch Season One), Sean Bean confided that there's a chance viewers haven't seen the last of the late Eddard Stark: "Apparently there are some flashback scenes that the writers have put in there," he teases, "so it was really nice to come back."