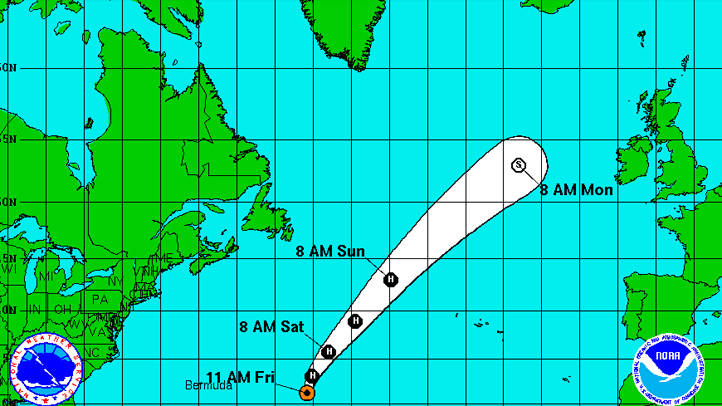 Hurricane Kirk continued moving over the open Atlantic with strong winds Friday as Tropical Storm Leslie was expected to become a hurricane later in the day, according to the National Hurricane Center in Miami.

As of 5 p.m., Kirk was a Category 1 hurricane and had weakened with maximum sustained winds of 90 mph as it moved north at 13 mph about 1015 miles south of Cape Race, Newfoundland and 1365 miles west of the Azores.
Interactive Radar

Kirk is expected to turn to the northwest with an increase in forward speed. It posed no threat to land and there were no watches or warnings in effect.

The hurricane is expected to continue to weaken beginning Friday night.

Meanwhile, Tropical Storm Leslie continued moving west-northwest and could become a hurricane later Friday or Friday night, according to the NHC.
Rescues Continue as Isaac Loses Strength

Leslie had maximum sustained winds of 65 mph and was about 715 miles east of the Leeward Islands as of 5 p.m. The storm was expected to strengthen over the next 48 hours and stay northeast of the Leeward Islands.

There are no coastal watches or warnings in effect.
U.S. & World
News from around the country and around the globe