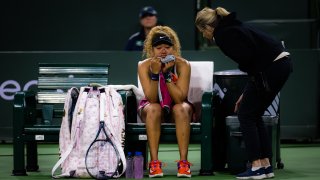 Rattled by a derogatory shout from a spectator, Naomi Osaka went on to lose 6-0, 6-4 to Veronika Kudermetova of Russia in the second round of the BNP Paribas Open on Saturday night.
Osaka trailed in the first set when a woman in the stands shouted, "Osaka, you suck." The Japanese star approached the chair umpire to ask that something be done. But the umpire explained that she didn't know who it was and could not take any action.
"I didn't hear what lady say because I really so focus on my game, on my serve game, I didn't understand what she say," Kudermetova said. "But after that moment, I saw that Naomi, she start to cry."
Osaka later made the unusual request to use the umpire's microphone to address the crowd, which did not happen.
A supervisor came on court for a prolonged discussion with Osaka. The supervisor told the umpire "if it happens again, we're going to find him." Kudermetova waited behind the baseline for the match to resume.
Afterward, Osaka spoke to the crowd with tears streaming down her face.
"To be honest, I've gotten heckled before, like it didn't really bother me, but heckled here..." she said, her voice trailing off.
"I watched a video of Venus and Serena (Williams) getting heckled here, if you've never watched it you should watch it," Osaka said. "I don't know why, but it went into my head and it got replayed a lot. I'm trying not to cry."
At the end of her address, an on-court representative told Osaka, "On behalf of everybody here, out of about 10,000 people, one person's voice can't weigh out 9,999 others, and we love you here," before she left to cheers and clapping from the crowd.
The Williams sisters were heckled by fans at Indian Wells in 2001. Venus withdrew, with a knee injury, from her scheduled semifinal against Serena shortly before it was to begin. When Venus and their father Richard took their seats to watch Serena in the final against Kim Clijsters, the crowd began booing. As the match went on, fans jeered Serena. Their father said he was the target of racial slurs. The sisters boycotted the tournament for years before eventually returning.
Osaka has said she struggled with depression after winning the 2018 U.S. Open in a controversial final against Serena Williams. She withdrew from last year's French Open to tend to her mental health.
Osaka won her opening-round match against Sloane Stephens in three sets in her return to the desert, where she won the title in 2018. Osaka hadn't played a tournament since January when she lost in the round of 32 at the Australian Open. Only having played a handful of events last year, her ranking dropped to 78th in the world.
"I know she's the strong, the great person," Kudermetova said. "I think it will be good with her."
Copyright AP - Associated Press