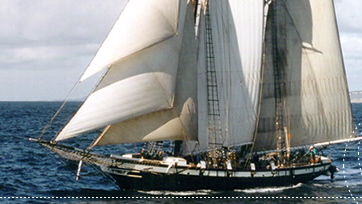 One good thing about summer in San Diego is that it offers endless opportunities to try fun and different things. Have you ever wanted to experience what it would be like to be part of a real sea crew, on an action-packed voyage to a far away land? Well, now you can make your dreams a reality by climbing aboard The Californian.

SAIL AWAY: Thanks to the Maritime Museum of San Diego, located at 1492 North Harbor Drive in Downtown San Diego, friends and family alike can learn and partake in the activities of tall ship sailing as they voyage to Catalina Island. By the end of your four-day expedition, you will have mastered standing watch, hauling lines and manning the helm like a true sailor.

ACTION-PACKED WEEKEND: Here is a breakdown of what you can look forward to on this adventure that is only offered twice this summer. On day one in the early afternoon, shipmates will listen in on a brief orientation, where they will meet the crew, store their belongings, and set the weekend's watch schedule. Shortly after, the ship departs and sets sail to round Point Loma. Day two includes sail training, sailing, and shore time where a big sailor feast gives plenty of time to relive the voyage. Day three and four conclude the expedition on The Californian by making its way back to San Diego.

PADDLE OUT: A new kayaking activity has also been included in the journey, where life vests, paddles and safety equipment make for a fun and safe kayaking experience on the open waters.

HOP ABOARD: Reserve a spot for $685.00 per person. There are only two trips planned July 22-25, or October 7-10. Each lasts four days and three nights. For more information, call the Maritime Museum of San Diego at 619-234-9153 or visit the museum's website.