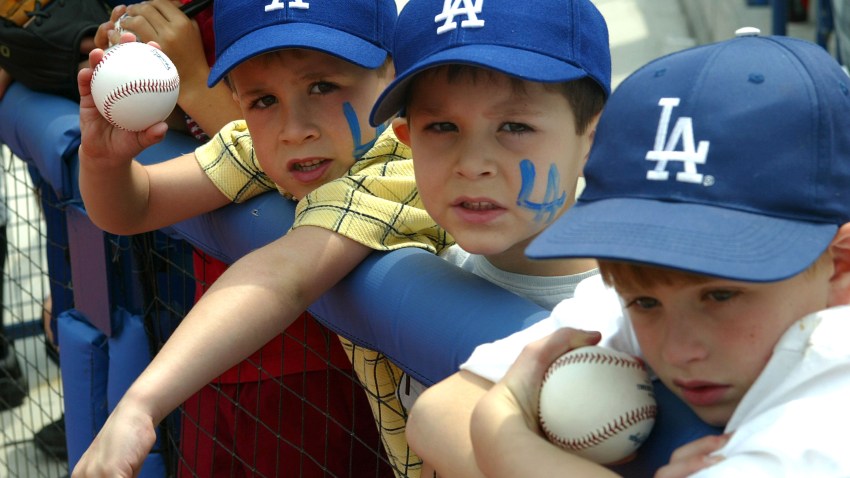 The Dodgers open the season Thursday against World Series champs and league rivals, the San Francisco Giants.
Clayton Kershaw will take the hill Thursday against two-time Cy Young winner Tim Lincecum.
Submit Your Photos: We want to see your Opening Day pics. E-mail us here, Facebook us here, tweet us here and of course, here's the upload form. Take your pick.
In addition to the magic of Opening Day, Dodger fans will be pleased to receive a free team schedule magnet.
They'll be less excited when a banner that reads "Beat LA" soars over the stadium.The Examiner reported that a mystery group raised the money needed to fly a huge banner over Dodgers stadium Monday night.
The game will mark the first season under the Don Mattingly flag. The Yankee great took over as manager after Joe Torre retired at the end of last season. Manny Ramirez is also long gone, after enjoying his last Dodger at bat in true Manny fashion. He was ejected after arguing a first-pitch called strike.
The Dodgers are looking to regroup from last year's lackluster season. This year will come down to the team's inconsistent (that's being generous) pitching staff, and some even bigger questions (aka: will the real James Loney please stand up?).
"It's a new year, that's for sure," Mattingly told the Associated Press. "To be honest, every club in baseball right now has got a good attitude and feels pretty good about their team and all that stuff."
"Last year is over and it was a learning experience for the whole team," he said. "We went home over the winter and came back with a new outlook. All signs and indications up to this point have shown that.''
We've heard rumblings that Thursday's game is sold out, although it appears a few of the pricier seats are still available through Ticketmaster. Game starts at 5 p.m.
Giants Pitcher Hospitalized After Crash

The Giants' Barry Zito was hospitalized briefly after his car was broadsided at a West Hollywood intersection, authorities said. The crash happened shortly before 8 p.m. Wednesday at the intersection of Sunset Boulevard and Sunset Plaza Drive, LA County Sheriff's spokesman Sgt. Joseph Morien told The Associated Press.

The lefthander was taken to a Cedar-Sinai Medical Center for observation, but Morien said he doesn't have any details on his condition.

"It was just to be checked out if he had injuries or not, and I believe he was released from the hospital," the sergeant said.

City News Service said the other driver wasn't hurt.