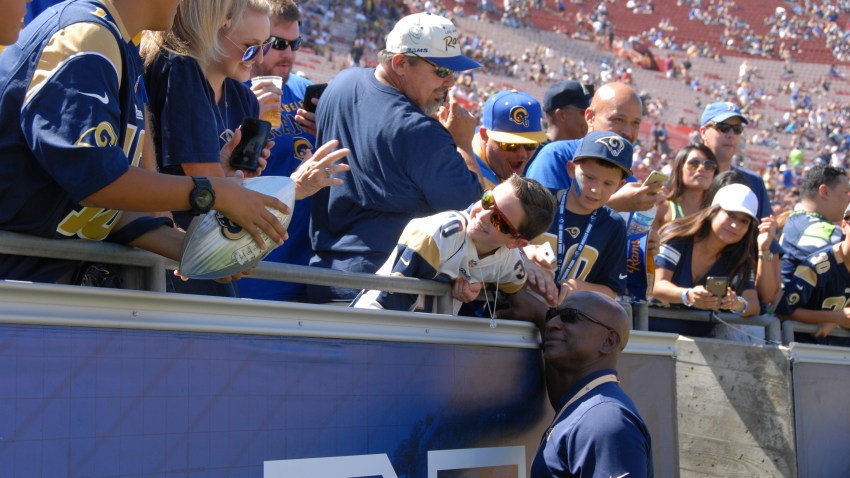 One of the benefits of Monday's announcement that Jeff Fisher had been fired as head coach of the Los Angeles Rams is that Hall of Fame running back Eric Dickerson can now return to the sidelines.

Dickerson put a self-imposed ban on his attendance at Rams games this season after Fisher had called and told him he was no longer welcome on the sidelines as long as he was head coach.
After the feud between the two went public, Dickerson vowed to never return to the L.A. Memorial Coliseum until Fisher was no longer on the field. That all changed on Monday.
"Of course I will go to the games now," Dickerson said on Fox Sports Radio's The Herd. "I have said this before, it's all about winning. The Los Angeles Rams fans deserve more, better than that. I just want us to win."
Dickerson said that he did not necessarily want Fisher to get fired, but his Twitter timeline suggested otherwise. Despite his words to the contrary, the Rams legend was not surprised by the news on Monday.

"I am not shocked," he told the show's host, Colin Cowherd about the firing. "I think it's something that had to happen. You have the players giving up on you; you have to make a change."
Dickerson was referring to the postgame comments by Rams' star running back Todd Gurley who said the team's offense played "like a middle school team," and believed that some of the players gave up.
The Rams lost their eighth game in nine contests, with Sunday's lopsided defeat the worst of the season so far. The Falcons led 42-0 entering the fourth quarter, and the game finished in a 42-14 blowout.
"I am not hating on Jeff. I am not mad at him," Dickerson said. "But I can't be sorry for a guy who's made $35 million coaching. He'll be okay. It is what it is. They cut players, they went in another direction; we are just going another direction here also."
Dickerson also weighed in on who he thought would make a good head coach for the Rams, naming Michigan's Jim Harbaugh and ESPN analyst Jon Gruden as potential successors to Fisher.
"They have to have someone who is a real football guy, who is going to make a difference, a splash," he said. "Not a yes man; they need someone who knows football and wants to win. That's what it's all about in L.A. You can't put a mediocre product on the field out here, as you saw yesterday."
Dickerson's next chance to be on the sideline will be on Christmas Eve, Saturday, December 24th, when new interim head coach John Fassel looks to beat the lowly San Francisco 49ers.