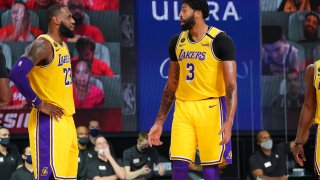 The Lakers have the Rockets on the ropes.
When Anthony Davis demanded a trade from the New Orleans Pelicans in February of 2019, he set his sights on a new team that would offer him championship aspirations.
So Davis bided his time, patiently finishing off that season on the bench before being traded to Los Angeles to join forces with LeBron James. Davis knew he would get opportunities to play in the postseason with the Lakers, and now he's one win away from reaching the Western Conference Finals for the first time in his seven-year career.
"I knew when I got traded here we had a chance to be successful," said Davis. "When I got traded here, I only thought about winning. It's crazy, I thought about that today. I'm just a game away from reaching the Western Conference Finals, a place I've never been in my career. It's going to be fun and exciting if we get there. We still have one more game to win against a tough Houston team, but it's definitely something I'm looking forward to."
Davis led the Lakers with 29 points, as they defeated the Rockets 110-100 in a wire-to-wire victory in Game 4 of the Western Conference semifinals on Thursday night.
The Lakers made a change in the starting lineup for the first time in the series, opting to go small and matchup with the Rockets by starting Markieff Morris instead of center JaVale McGee.
"We decided to go smaller by starting Markieff," said Lakers' head coach Frank Vogel about the decision to change the starting lineup.
Local
Get Los Angeles's latest local news on crime, entertainment, weather, schools, COVID, cost of living and more. Here's your go-to source for today's LA news.
The move worked wonders as the Lakers had arguably their best first quarter defensively of the series, holding the Rockets to just 22 points.
The defense only got better from there as the Lakers expertly picked apart the Rockets, stretching the lead to as many as 18 points in the second quarter. By quarter's end, they once again held Houston's offense to just 19 points, stymieing former MVP James Harden in the process.
"We're happy with what we're doing on the defensive end," said Vogel. "It can always get better, but overall we're just trying to limit Harden and make him as uncomfortable as we can."
The Lakers kept their foot on the gas in the third quarter, increasing the lead to as many as 23 points before they staved off a furious Rockets comeback late in the game.
Led by a 19-2 run, and fueled by five straight Lakers turnovers, the Rockets got within five points, 105-100, with 50 seconds remaining. However, Alex Caruso hit a three from the corner with 34.6 seconds remaining that put the dagger in Houston's comeback attempt, and sealed the victory for Los Angeles.
"I've been practicing that corner three from 'Bron all year," said Caruso. "Knowing that he will make the right decision at the end of games and that they'll pack the paint and I'll be wide open in the corner. It's just about me having the cojones to step in and take the shot and not be afraid to miss."
The Rockets now find themselves in a familiar position: staring elimination dead in the eye after eight consecutive postseasons without reaching the NBA Finals. Houston has reached the conference finals twice over that span, but now on the precipice of even that feat slipping through their grasp for the third straight season.
Here, again, even after trading away Chris Paul for Russell Westbrook, and Clint Capela for Robert Covington, and embracing their small-ball mentality, Houston's head is spinning as another title shot falls by the wayside.
Distractions off the court mounted for the Rockets before Games 3 and 4. Rockets reserve guard Danuel House Jr. missed Game 3 for "personal reasons," but a report surfaced just hours before tip-off of Game 4, that House Jr. was under investigation by the NBA for allegedly allowing a female COVID-19 testing official into his hotel room for an overnight stay. House has not played in the series since Game 2, when he scored 13 points in 27 minutes off the bench.
Now, Houston will plagued with a plethora of unanswered questions as they face elimination in Game 5. Can their small-ball style of play succeed in the NBA Playoffs? Are James Harden and Russell Westbrook an ideal tandem two win a title?
"We know we're in a big hole now, but the next game is the game we got to win," said Rockets' head coach Mike D'Antoni. "It was just a lack of spirit for the first three quarters tonight. If we go out and lay it on the line like we did in the fourth quarter, we'll be fine."
Westbrook led the Rockets on Thursday with a team-high 25 points. Meanwhile, Harden had his worst shooting game of the series, going 2-for-11 from the field for just 21 points on 16 free throws.
"We just have to execute better," Harden said of the team's overall disappointing performance. "We have to be more aggressive and it will lead to more opportunities offensively."
LeBron James fell one assist shy of another playoff triple-double, finishing with 16 points, 15 rebounds, and nine assists. James was the poised and calculated veteran throughout the night, opening up holes for his teammates, spreading the floor with his shooting, and passing out of double teams to find his teammates for open shots, like he did with Caruso on the game-winner.
"The fact that we have so much confidence in AC [Alex Caruso], a guy that played a lot of his time in the G-League before this year, I think it just helps keep his confidence growing and growing and growing," said James. "He's playing meaningful big time minutes in the postseason for a team that's competing for a championship. He's a guy that we can count on, doesn't make many mistakes on the floor, and just plays winning basketball. I didn't have one second guess if I was going to hit him in that corner. He knows that I have the confidence in him that he's going to knock down and he shot and made it."
Caruso, a former G-League player, who was an afterthought to even remain on the team just a year ago, finished with 16 points off the bench. Rajon Rondo, playing in just his fourth game since March, had another stellar game with 11 points, 10 rebounds and eight assists. Even rookie Talen Horton-Tucker saw his first action of the postseason, scoring five points in seven minutes off the bench.
For most of the night, Houston had no answers for the Lakers when it came to the battle of the boards. Despite their size, the Rockets hang their hat on their ability to box out and rebound. After drawing even with the Lakers in that category in Game 1, they have been outrebounded 136-to-91 since. Los Angeles doubled up the Rockets in rebounds in Game 4, 52-to-26, including 12-to-1 on the offensive glass.
"The rebounding isn't always about size," said Vogel. "I liked the fact that we committed to boxing out. We held them to just one offensive rebound. That's something they do well. I was happy with our commitment more than the fact that we had a size advantage over these guys."
For the third consecutive game, the Rockets shot better than 40 percent from the three-point line. Entering the series, Houston was a perfect 16-0 when shooting greater than 40 percent from beyond the arc. They have now lost three straight while still remaining hot from three.
The Lakers improved their free-throw shooting between Game 3 and 4. The Lakers finished 15-of-16 (94 percent) from the charity stripe in the win.
The Lakers can eliminate the Rockets and end their season in Game 5 on Saturday night at 5:00PM PT.