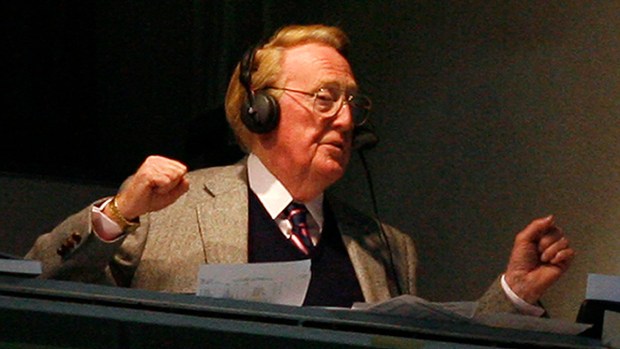 ASSOCIATED PRESS
Vin Scully took over the @Dodgers Twitter account on Monday to spread some holiday cheer and talk about his favorite MLB moments.
Nobody ever likes Monday, but this week was a bit more tolerable as Vin Scully returned to Twitter for a quick @Dodgers Twitter takeover. The Los Angeles icon took the opportunity to spread some Holiday cheer, and talk about some of favorite moments in baseball history as #AskVin trended in Los Angeles.
It was his second time this year tweeting from @Dodgers, with his last appearance coming in June in a game against the Yankees. Last time he tweeted for the entirety of the game, but on Monday it was a short one-hour spree. Regardless, he sent out a few gems for fans to appreciate.
Here is a handful of the best tweets from Monday's Vin Scully @Dodgers takeover. Scully started off, as always, with a warm greeting:
Vin talked about some of his favorite moments from covering the Dodgers:
The first professional ballgame he ever attended:
And about how Clayton Kershaw is among the best pitchers he has ever seen:
Possibly my favorite part was when he talked about his announcing career. He discussed its origins...
...and about working on the film "For Love Of The Game." Scully as the play-by-play announcer in the movie, and he talked about how they integrated him into the movie in a rather awesome way:
Another amazing insight into his life was Scully's favorite celebrity encounters:
Overall it was a fun event, and made another sluggish Monday that much better. Mr. Scully parted ways with some Christmas cheer: