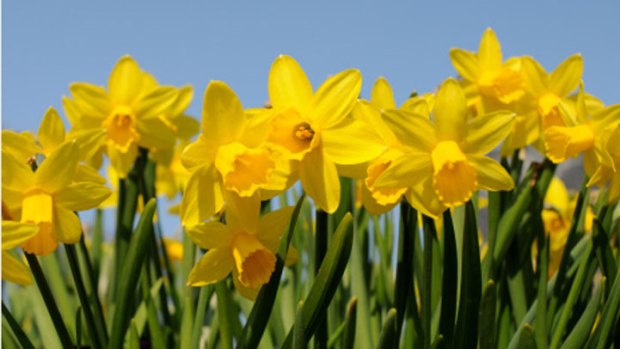 Daffodils
Over 80,000 daffodil bulbs have been planted along Highway 189 near Lake Arrowhead.
BLOOMS ON THE MOUNTAIN: When you think of nature and Lake Arrowhead, where does your mind alight first? Well, probably the lake, right? But after that. We tend to think of the tall fir trees and all those leaves that go wonderfully crimson come late October. It isn't fair to pigeonhole -- or naturehole? -- the community in that way, of course, and Lake Arrowhead enjoys a memorable spring season. True, sudden snowfalls are still a factor, but blooms bursting underneath the pines are not uncommon. And they're especially plentiful if you happen to be tooling along Highway 189 and you happen to be doing so right about now. That's because it is daffodil season in Lake Arrowhead, a time of year when people take the drive to enjoy the show created by the careful and loving planting of some 80,000 bulbs.
THAT'S RIGHT. 80,000 BULBS. If you love flowers and mountain life but haven't heard of the Twin Peaks Daffodil Project, it is something to get acquainted with. Julie Greer, who lived in the Arrowhead-close town of Twin Peaks, started regularly planting 10,000 daffodil bulbs around the community every year. Magical and thoughtful? Definitely. And when Julie lost her battle with breast cancer in 2001, her husband Tom kept the bulb planting going. And how; the Lake Arrowhead Communities Chamber of Commerce estimates that over 80,000 bulbs now bloom along Highway 189. It's a moving tale with a beautiful yearly return. Happy spring.