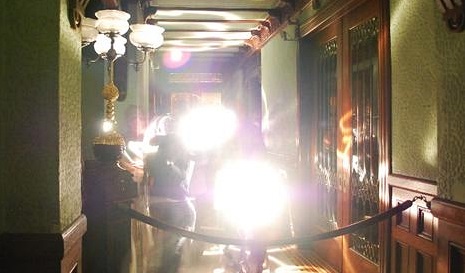 Winchester Mystery House
The Winchester Mystery House's nighttime tours, which fall on every Friday the 13th, are a special thing indeed. And a sell-out thing, too. Next one is up on Friday, Sept. 13.
HIGH BEAMS AND HAUNTED HALLS: Other places can stick the word "spooky" or "ghost" on their brochure or billboards, but there's only one Winchester Mystery House. Nope, we're not saying that other ghastly ghostly places, such as castles or mansions or such, can't lay claim to some eerie vibes. But the San Jose landmark is truly in its own class, thanks to the zig-zaggy, medium-directed way it came together. (You know the story: Long- ago seers told heiress Sarah Winchester to keep building onto her house, and never let the tools fall silent, the better to accommodate the spirits created by her gunpowdery family fortune.) There's no place like the Winchester, truly, but it lives up to its buzz. Even a daytime tour through the house, which features stairs to nowhere, doors that open onto brick walls, and the number 13 in various forms, can twist the stomach a little. But can you imagine being inside the crazy-corridored house by night? If so...
THE FRIDAY THE 13TH FLASHLIGHT TOUR... is for you. They only come up every Friday the 13th -- hence the name -- and they do indeed involve flashlights, meaning you'll want to show at 525 S. Winchester Boulevard after dark, not before. Oh, but you shouldn't just show up, we should say. This thing always, always, and we mean always sells out ahead of time, which is why we make an early mention. September 13 is the next Friday the 13th, and we think it is a perfectly chilling time to book a tour. After all, doesn't all of the creepy Halloween stuff and masks and candy corns start to fill the grocery store aisles around that very week? What better way to jump-start your autumn than by lowlight, at night, in one hugely famous haunted house? Get your tickets pronto, ghost seeker.