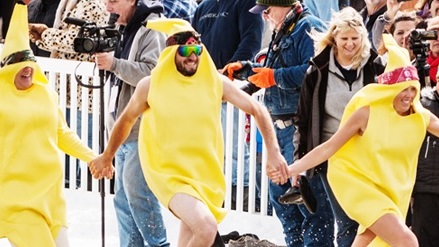 Ready to take a splash -- a cold, cold splash -- on Saturday, March 8? Make for Big Bear Lake and lend support to the Special Olympics Southern California Polar Plunge.
SOCIAL MEDIA MAPS... can be inaccurate or cheeky or right on target or weird or all of the above, but the one of the United States that has gone around recently, depicting the nation's intense winter weather, kind of fits. While snowflakes swirl elsewhere, California gets a huge "LOL" over it, indicating that our colder months have been, well, less cold and more glorious. This is not to say that our nights aren't brisk 'round SoCal, even if our days lean balmy, and the mountains? Yeah, there's some snow. And whether you'd want to dash into Big Bear Lake, the Big Bear Lake, on the second Saturday in March, is probably a major question mark at first glance. Won't the water be, well, on the teeth-chattery side? Indeed, it will be, but we bet you'll be on board, ready to make a splash, when you learn it is all for a fine cause. It's the annual Polar Plunge for the Southern California Special Olympics.
AND PEOPLE... get into it. Yep, there are some wacky costumes, and, yep, some bikinis, too, so whatever you need to wear to get into the lake, and back out, is a-ok. You just need to do some raising of funds (a minimum of fifty bucks nabs you a long-sleeved tee, which you'll probably need when you get out of the water), and you don't even need to go into the waves to participate. That's what the "Too Chicken Too Plunge" category is for (and there's no shame in joining up there, only good vibes). And best of all? Special Olympics wins, and, indeed, you can donate without even driving up the mountain. Consider doing so, and, truly, making the plunge if you're intrigued. Polar plunges tend to taper off come springtime, so this is the last of the regional cold swims for the season. We know, we know, this winter hasn't been particularly "cold" per se, but once you hit that 36-degree water on March 8, you may whistle a different tune.