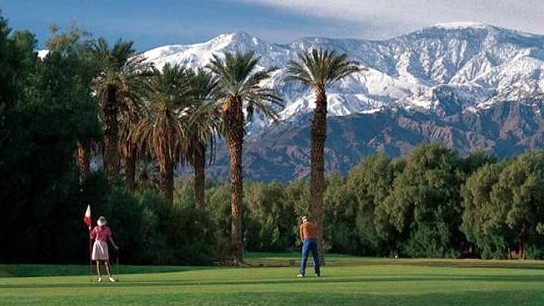 Furnace Creek Golf Course
There's a Stay & Play package on now at Furnace Creek.
WE KNOW: We know. We know it is backwards, but, if you love your Death Valley, and we hope and believe you do, you know that the national park kind of lives in opposite land, at least in terms of when to visit. Juuuust about the time that snow starts to fall over great swaths of the country is when vacationers don plaid shorts and make for the famous Furnace Creek greens. Now, why do we call this particular golf course famous? Well, it is in one of the world's most legendary hot stretches. But it is also the world's lowest golf course. Yep, it's over two hundred feet below sea level, which should draw just about any golfer looking to round out his or her course tally. But to further entice golfers to swing by the Inn at Furnace Creek, which just opened for the season on Oct. 8, is offering a Stay & Play Package. The package is also available through the Ranch at Furnace Creek, which is open year-round.
DUFFER DETAILS: You get a room, unlimited golf, and a cart, plus some other sweet additions, in your deal. Ranch starts at $248 and the Inn at $412. Promo Code is GOLF (that's easy). Oh! And come January and February, rates go down for a few weeks. We love Death Valley in February, but the dramatic rains we get near the coast can also hit the park (read: we were soggy). And this is interesting. The Furnace Creek Golf Course is a Certified Audubon Cooperative Sanctuary, so don't be surprised to see some pretty birdage while bragging about your birdies. It's a grand setting for an old and noble game.