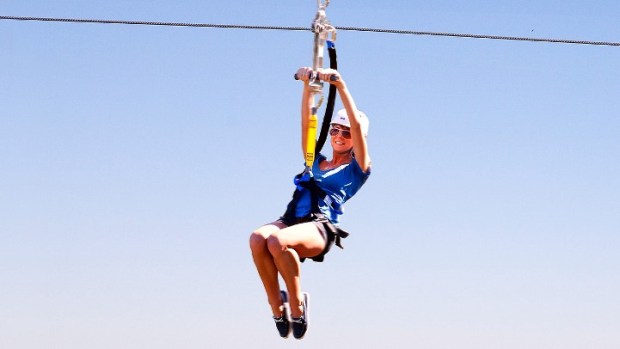 Catalina Island
Spend Black Friday 2011 on the eco zip line on Catalina Island.
TGIBF: Have you made your Black Friday plans? Many people have. They know which stores they're arriving at at what exact minute and they know the toys and purchases they need to find. Others? Oh, they'll get around to the holiday gift-buying thing, eventually. But they see the day after Thanksgiving as a day to decompress, to let go, to not do too much of anything. Well, except maybe sail through the air, on an island attached to a zip line by a harness. Oh, is your interest piqued? Yeah, ours too. The thought of a little R&R on one of the least R&Riest days of the year cheers. So we're typing about the Pavilion Hotel Black Friday deal and all the goodies it includes.
LIKE... You'll get a round-trip ferry from LBC. You'll get half-off a zip line. And you'll get access to stuff like undersea tours and miniature golf. Miniature golf! Oh boy. We're gonna dig out our plaid capris this instant. Just book two nights -- that Friday and Saturday -- at the Pavilion on Catalina and you'll be away from the bustle on the mainland. Per person per night? That would be $189 to start. You'll need to arrange double-occupancy for that price, but don't you want to go with a friend or sweetheart? You'll want that special person to take your photo on the eco zip line, after all. If you want to book, it is called the Unlimited Package. Aaaand, go.