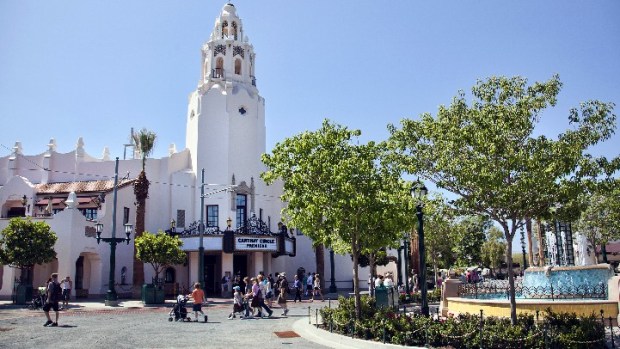 Paul Hiffmeyer
The new Carthay Circle Theatre at Disney California Adventure.
MOVIE ICON: When we think of the historic movie palaces of Los Angeles, we're apt to think of Broadway or Hollywood Boulevard. It was on those particular thoroughfares that cinematic landmarks first began to spring up nearly a century ago. But there was a bit of a lone wolf in the movie palace bunch, at least as far as location went, and it was called the Carthay Circle. It wasn't in Tinseltown and it wasn't downtown; rather, it sat at San Vicente Boulevard and Olympic just a few blocks west of Fairfax. It was spectacular, of course, in true movie palace fashion, but it was also a draw for big companies to premiere their films. Like? Well, "Snow White and the Seven Dwarfs" bowed there, as did "Fantasia." And if you're sensing where we're about to go next, now that we've cited those particular films, you'd be correct. Disney had strong ties to the property, which was torn down in 1969 after years of decline. There's always a second act in the make-believe business, though, and the Carthay is getting its new chapter: An authentic-looking replica now stands inside Disney California Adventure.
LARGER REDO: The new Carthay Circle Theatre is part of the larger Disney California Adventure renovations and updates; those include the new Buena Vista Street, which the building now anchors, and Cars Land, which gets its official opening on Friday, June 15. The first question might be this: Is there a theater or screen inside? Nope; this Carthay houses a restaurant and a private area open to members. Still, standing outside of it, near its fountain, summons San Vicente Boulevard circa 1926. Snow White once sang about her prince coming one day; it took several decades, but the theater much associated with "Snow White" had a wish answered, too, in a way. Call it a Hollywood-style second chance.