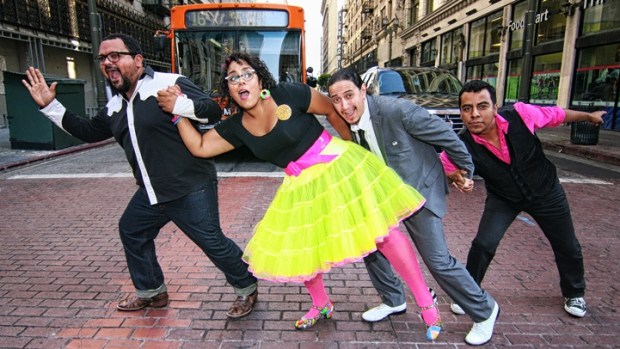 Humberto Howard
La Santa Cecilia will perform at the 2014 Off Center Festival. The quirky performance series kicks off in Costa Mesa on Thursday, Jan. 23.
WE ALL KNOW... that the theater isn't staid or dry or cobwebby or yawn-filled, though some would satirize it, still, that way. Why, we're not sure, because plays and musicals and performances can be truly unruly and magical and strange and unsettling. Nope, it isn't always two people, in costumes, sipping martinis, talking in clipped tones about their relationship (though that's pretty fun to watch, too). But how does the fan of unruly stage shows get a whole bunch of that action, all at once? Sure, an event'll land at a venue for a night or two, but rare is the run which features a whole bevy of quirky or bizarre or outlandish shows. There are exceptions -- fringe festivals tend to successfully serve that end of things -- and a couple of SoCal favorites that pop up each and every year. One such gem is the Off Center Festival, which pulls into the Segerstrom Center for the Arts each January, and brings with it music, readings, parties, and, yes, some weird drama, too.
ON THE 2014 PLAYBILL: Die Roten Punkte: Super Musician will unleash their iconoclastic Ramones-y style upon the Segerstrom on Jan. 24 and 25. Edgar Oliver will remember his novel-worthy childhood in a "decaying Savannah mansion" on Jan. 24, 25, and 26. And "(t)heater and video collide" in Phil Soltanoff's "LA Story." Yep, there are fringe-fantastic elements to the offbeat proceedings, but so many fringean to-dos are summertime staples. It's nice to have a streak of strange right in the wintertime, and to have it for so many days in a row. Want to catch the full run of everything offered? Clear your calendar and be in Costa Mesa from Jan. 23 through Feb. 2.