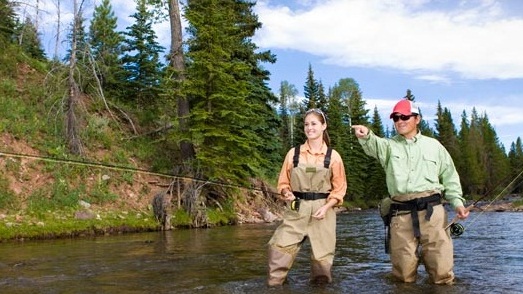 Tenaya Lodge
Tenaya Lodge at Yosemite offers a fly-fishing package, complete with an instructor and two-night stay-over.
CALIFORNIA'S CLEAR WATERS: When you think of fly-fishing, do you automatically think of Montana and Wisconsin? Well, after you think of the Brad Pitt film and the various travel books built on the meditative principles of the pastime? Many people do, since there is lots of great fly-fishing to be done in that particular region (drive through the Big Horns on any summer day and you're apt to see people in their waders, hip deep in clear, alpine-gorgeous streams. The Golden State also has a lot of fly-fishing, meaning that if you've been wanting to try your hand, but aren't yet up for a trip to the northern Rockies or Glacier National Park, you can visit your own nearby, or fairly nearby, Sierra Nevadas for a lesson. Tenaya Lodge at Yosemite offers a fly-fishing package that has two great perks: a guide ready to lend know-how on casting lines and such, and a two-night stay-over at the swank Yosemite-close hotel.
OTHER OUTDOORSY AMENITIES: All of your fly-fishing gear is part of the package, so you won't need to go out and purchase a pair of waders or a specialty rod for your day in the streams of the Sierra. Lunches are also provided for your day out with a guide (and we should mention this is a package for two, so make sure your favorite co-adventurer is in the mix). And the prices? They start a bit lower in the spring, at $399, and peak in the summer at $545 (fall is also available and falls somewhere between those two levels). Oh, and those wiggly and wet Sierra denizens you'll be fishing for? They include various types of trout, including brown and rainbow.