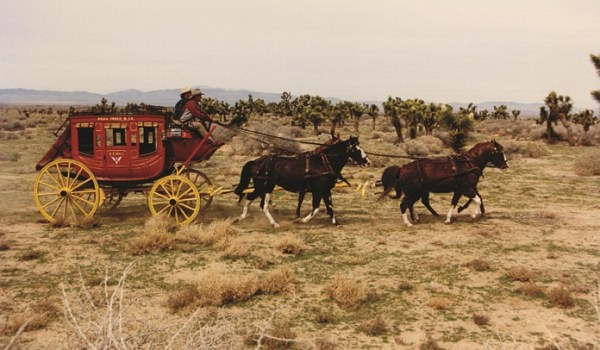 Spirit of the West
Take an historic carriage ride through the Santa Ynez Valley during the Spirit of the West carriage symposium. It's on from April 10-14 (with rides on Saturday, April 13).
WHEELS OF THE WEST: Carriages have been popular through the centuries, but it took the Old West to make this mode of transport truly iconic. The small wheeled structures served many of the same functions as the carriages found the world over, but lore rose up around companies like Wells Fargo and those adventurers that set out where there were no established roads. And a film Western? It's can be challenging to find a classic example without at least one stagecoach scene (often filmed around someplace like Monument Valley). But riding that other famous mode of transport of the west -- the horse, of course -- is far easier to do nowadays than finding a stagecoach to jostle about in. There are exceptions to be found, of course; the occasional theme park will feature a carriage. Yet riding out in the wilderness is different and authentic, too. The Spirit of the West symposium celebrates the stages and carriages of yore, both through talks and special events and a full Saturday of come-one-come-all stagecoach rides around Santa Ynez Valley, a valley that doesn't look all that changed from when carriages really were the vehicles of choice.
SATURDAY, APRIL 13: We said that carriage rides were "come one come all" but there is an asterisk: You should be at least 10 years old to step inside. A ride is $25 and takes you around Chamberlin Ranch, which should deliver the rustic vistas you desire when inside a coach. If you want to jump into more Spirit of the West events, you can, but note that they open up on Wednesday, April 10. But be at Chamberlin on April 13 to get your ride in. It's all pretty yippee-ki-yay, and we're sure that there are many Western buffs who haven't yet gotten their moment to ride a stage (just stepping into one inside a museum isn't quite the same). Happy trails, stagecoachers.