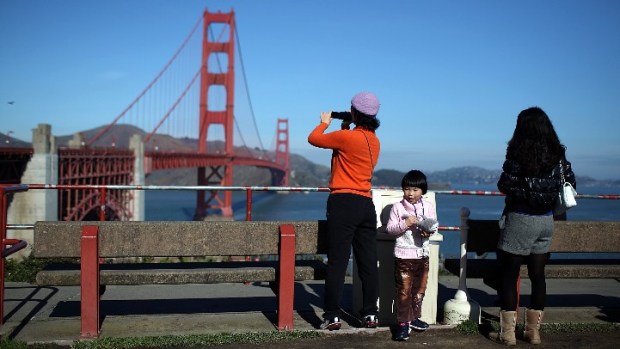 Getty Images
The Golden Gate Bridge gets a city-big 75th birthday party on Sunday, May 27.
LANDMARK LEGEND: It's a rare and wonderful thing when a location that has a rather sensible and everyday role -- allow vehicles and people to move from one area to another -- becomes not only internationally renown but a true symbol for a city. And also even a little bit mythic. But such as been the legendary lot of the Golden Gate Bridge, which marks its 75th anniversary in 2012. It's actually hard to believe that there was a time just over three quarters of a century ago when the celebrated span didn't exist; when we see black-and-white, bridge-less photos of San Francisco Bay we always feel a bit discombobulated. The icon is that lodged in our hearts and imaginations, and, yep, it does help us get from Marin to the city and vice versa. So let's celebrate, shall we?
Getty Images
SUNDAY, MAY 27: While there are numerous events happening around San Francisco that are ongoing or will happen before or beyond Memorial Day Weekend, the major festival is on that Sunday (with a few haps on Saturday, so check the schedule). A fireworks display will be the wowza point of the day, but art installations at Fort Point, music at Fisherman's Wharf, and a movie night at the Presidio are on the docket. (You can probably name three movies off the top of your head with the Golden Gate in it, right? "Vertigo," "Rise of the Planet of the Apes," "The Rock...") It's a big weekend, is what we're saying, but something as big as the Golden Gate deserves an out-sized party. Best of all, the guest of honor gets to stick around after the party is over, where it will continue to help us get from Point A to Point B in the tower-majestic, orange-beautiful, foggy-epic way it does, day in and day out.