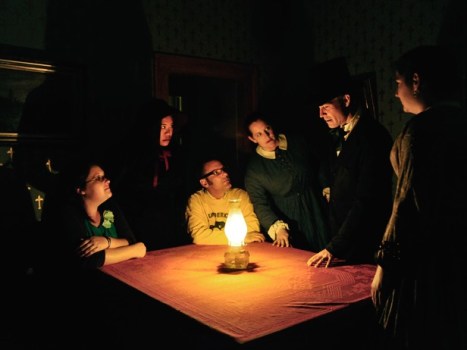 Sande Lollis
Whaley House in San Diego offers some haunted doings ahead of Halloween 2011.
FACT IS... The Whaley House, even on a crisp, sunshine-laden San Diego day, has an air. You needn't have seen it on a travel program or read about it in a magazine to know that there's a lot of history to the place -- its 19th-century facade tells that story -- nor do need to know that many people consider it to be one of the most haunted places in the country. It simply stands apart. And on an October evening, near Halloween? That certain air might seem a bit heavier, a bit weightier, and definitely full of secrets. That's because the historic landmark opens up to fans of phantoms and people interested in its storied spookier side. WIth that in mind, the Old Town building will keep longer hours over Halloween weekend -- it will stay open 'til midnight from Oct. 27 through 30 -- and there are a few special events as well.
THOSE INCLUDE... Scareyoke at the Whaley House on Saturday, Oct. 22. There's also a 10:30 p.m. Ghost Hunting Tour on Wednesday, Oct. 26. And on Halloween proper? Tales will be told about the house's alleged long-term residents (the tours are $15 and are on from 6 p.m. to midnight). Find out more about one of the phantomiest spots in all of the Golden State. And also note that if you can't make it for All Hallows Eve, the Whaley is open all year long.