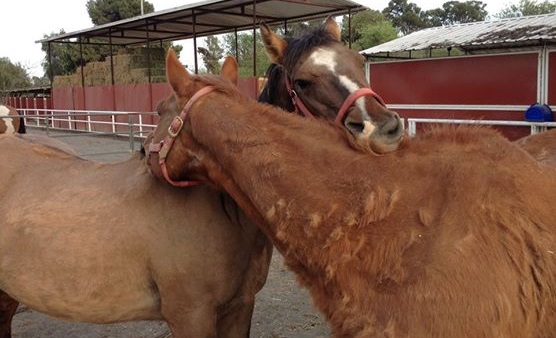 Red Bucket Equine Rescue
The horses of Red Bucket Equine Rescue are "always referred to by name." Want to visit the Chino Hills sanctuary? It's open every Sunday afternoon.
AN ANIMAL LOVER... wants all beasties in need to receive the attention and care they require. It's a very good thing that we live in an age of very active rescue organizations, groups that think nothing of sending someone to drive hundreds of miles to pick up a dog or cat for possible adoption (and a whole lot of necessary TLC). But care is given to sweet creatures across the animal kingdom, and not just our pups and kittens. There are a number of horse sanctuaries across the West, and several in California. Not only do they seek out and take in horses require rehabilitation and a second chance, but they very often are able to place those ponies in doting new homes. Red Bucket Equine Rescue of Chino Hills is one such ranch, and like many animal preserves, they host regular fundraisers. One just passed, but that doesn't mean you can't lend a hoof -- or hand -- the mane-marvelous animals who call the ranch home. You can donate and you can visit on any Sunday afternoon, to meet the horses, horses who are "all called by name."
TROT THIS WAY: The ranch is open from 1 to 4 p.m. on Sundays, and Mondays, too, if you make an appointment (Sundays do not require an appointment to visit). You'll have some one-on-one with the horses -- or few-people-on-a-few-horses, more likely -- and get to know what the ranch does and how it started. Susan Peirce founded the sanctuary in 2008 after discovering a hard-up filly in a "dilapidated stable." Since then, many horses have trotted into Chino Hills, received a lot of attention and rehab and personal care, and some have gone onto their forever homes. It's true: Animal rescue isn't solely the province of smaller pets. The equine world deserves human care and consideration as well.